Carmen
Bizet
Archived: 2014/2015
Overview
Carmen is a byword for passion and intoxication – and without doubt, one of the most alluring, popular and well-known operas in the world.
---
She's not a bad person. However, she is a deadly cocktail of desire and devastation. This earthy and visceral production transports you to a vivid 19th century Spain. The stage is set perfectly for the sultry Habanera and the rousing Toreador Song.
As a force of nature, utterly unbowed by social norms, Carmen – too beautiful, too fiery and too fast – can only attract trouble. Don José has no choice but to fall for her. A man sent spinning by the whirlwind of Carmen, struggling with longing and the demands of conscience and duty.

---
Co-production with Scottish Opera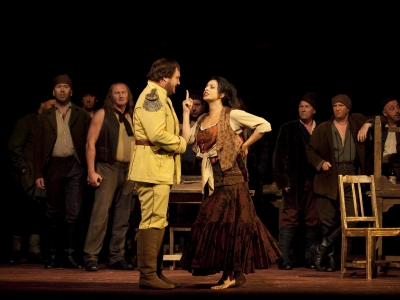 Good to know
Sung in French with surtitles in English (and Welsh in Cardiff and Llandudno)
Synopsis
Act One
It is a busy working day in Seville, and a young village girl, Micaëla, is looking for corporal Don José, but he is nowhere to be seen. The soldiers and townsmen gather together to admire the women as they emerge from their cigarette factory, but there is one in particular who captures their attention: the gypsy, Carmen. She declares to her captivated admirers that love is as free as a bird, and obeys no rules. Just before Carmen returns to her work, she throws a flower to José, which he hastily hides from view as Micaëla approaches him with a letter from his mother. Micaëla leaves him as he starts to read, but he is interrupted by the sounds of a fight between Carmen and another girl in the factory. On the orders of Lieutenant Zuniga, Don José retrieves Carmen in order to imprison her. However, when left alone with José, she lures him into meeting her later at the tavern of Lillas Pastia. Leaving him mesmerised, she seizes the chance to make her escape, and José is arrested for dereliction of duty.
Act Two
One month later, Carmen is entertaining the guests at Pastia's tavern with her friends Frasquita and Mercédès, when she learns that Don José has just been released from prison. At that point, however, Escamillo, the daredevil, flamboyant bullfighter arrives, boasting about the pleasures of his profession. He tries to seduce Carmen, but she brushes his advances aside. With the departure of the majority of the guests leave, Carmen and her friends are joined by two smugglers, who try to involve the ladies in their latest contraband plot. Carmen decides to stay behind and wait for Don José, whom she serenades with a private dance, but not without first arousing his jealousy over her previous dances for Zuniga. A bugle call summons José back to his military duties, but when Carmen mocks him for this, he produces the flower she threw to him a month ago, saying that its fragrance gave him hope during his time in prison. Zuniga bursts in, and José attacks him in a jealous rage. With the return of the smugglers, José has no choice but to join them, and together with Carmen, they leave for the mountains.
Act Three
Hidden deep within the mountains of the borderland, Carmen and José's love has turned to quarrelling, and a fortune-telling card game foretells death for them both. Meanwhile, the village girl Micaëla hides in the shadows, fearful of Carmen, the woman who has turned José into a criminal. The bullfighter Escamillo gets into a fight with José, and as he leaves, he invites the company – and in particular Carmen – to his next bullfight. Micaëla emerges from the shadows and begs José to return home and visit his dying mother. As he leaves, he warns Carmen that they will meet again.
Act Four
As the crowds cheer the bullfighters on their way to the arena, Carmen proudly arrives on the arm of Escamillo. José passionately begs Carmen to come back to him, but she calmly responds that she no longer loves him, and that is a free spirit. As the crowd cheers Escamillo, José stabs Carmen in a fit of rage, and he is left alone to weep over the body of the woman he loved.