The Barber of Seville
Rossini
Archived: 2015/2016
Overview
The Barber of Seville should be available on the NHS. Upbeat and optimistic, Rossini's sunniest creation is the perfect pick-me up.
---
The young Count Almaviva has fallen in love with Rosina, the ward of Doctor Bartolo. Bartolo keeps Rosina locked away and plans to marry her and claim her inheritance. The Count wants to win Rosina's love on his own terms, and keeps his identity and wealth a secret, disguising himself as 'Lindoro,' a poor student.
With the help of Figaro, a local barber, Almaviva enters Doctor Bartolo's house disguised as a drunken soldier – but the ensuing commotion scuppers his plans. Undeterred, the Count poses as 'Don Alonso', a music master summoned as a replacement for Don Basilio, Rosina's usual singing tutor.
The young couple make plans to elope, but they are overheard by Bartolo. Don Basilio appears unexpectedly, and the two men conclude that 'Alonso' must be the Count Almaviva in disguise. Bartolo tells Rosina that 'Lindoro' plans to abduct her in order to take her to Count Almaviva.
She is heartbroken, and agrees to marry her guardian, Dr Bartolo. Almaviva returns to elope with Rosina in secret and reveals his true identity. The young couple bribe Don Basilio into witnessing their wedding, and Doctor Bartolo is defeated once and for all.
The pace is fast and never lets up from the start. Everyone is carried along by a whirlwind of crazy disguises, twists and turns and unlikely interventions. Barber opens with one of the best loved of all overtures, full of wit and playfulness.
Figaro lets us know he is society's problem solver in the great comic aria, 'Largo al factotum'. Rosina's sparkling aria 'Una voce poco fa' makes it very clear that she's not someone you'd want to mess with. We have assembled an exceptional cast of comic performers including the peerless Andrew Shore as the greedy Doctor Bartolo.
This is our first new production of The Barber of Seville for nearly 30 years. It is the perfect opportunity to bask in the warmth and sunniness of this ultimate feel-good opera with a sparkling new translation by Kelley Rourke.
---
Co-production with Grand Théâtre de Genève.
Supported by WNO Partners.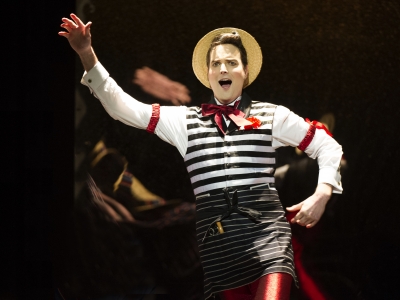 Venues & Tickets
Good to know
Sung in English with surtitles in English, except recitatives (and Welsh in Cardiff and Llandudno)
Performances start at 7.15pm
Synopsis
Act One
Fiorello, a servant to the young Count Almaviva, gathers a band of musicians by the window of an unknown lady. They accompany the serenade of the young Count Almaviva, who has disguised himself as 'Lindoro', a poor student, in order to win over the young woman on his own terms. She does not answer, despite the noisy commotion of the musicians. The Count meets a local barber, Figaro, a busy man who knows all the scandal and gossip of the town. Figaro tells the Count that the woman he has been serenading is Rosina, the ward of Doctor Bartolo, who keeps her and her generous dowry locked away, and plans to marry her himself. The Count vows to outwit him – and on Figaro's advice, disguises himself as a drunken soldier with orders to stay at Bartolo's house that evening.
Rosina is also determined to defeat her guardian. 'Lindoro' has won her heart. Figaro encourages Rosina to give 'Lindoro' a sign of her affection. To Figaro's surprise, Rosina presents him with a letter that she has already prepared, which the barber promises to deliver.
Doctor Bartolo is suspicious of Rosina. Don Basilio, Rosina's music tutor, tells him that the Count Almaviva has developed an interest in his ward. According to Basilio, there is only one way to bring about the ruin of the Count: slander. Bartolo is intrigued, and vows to marry Rosina immediately.
Almaviva is disguised as a drunken soldier, and tells Doctor Bartolo that he has been ordered to station himself at Doctor Bartolo's house for the night. In the confusion that follows, Almaviva slips Rosina a letter. The situation escalates, and there is such a disturbance that the neighbours call out the police. The drunken soldier is arrested – but all charges are dropped when the Count quietly reveals his true identity. Everyone agrees that the spectacle is enough to drive anyone to madness.
Act Two

Undeterred, Almaviva disguises himself as 'Don Alonso,' a music teacher and apprentice of Don Basilio. He tells Doctor Bartolo that his master is ill and that he will teach Rosina's music lesson instead. To establish his credentials, he shows Doctor Bartolo the letter Rosina wrote to him. As the 'music lesson' commences, Rosina and her undercover admirer make plans to elope that night.
Figaro arrives to shave Doctor Bartolo, and hastily steals his keys. Basilio arrives unexpectedly, and before he can work out the real identity of 'Don Alonso', he is persuaded that he is too ill to teach. Doctor Bartolo settles down for his shave – but overhears the lovers plotting their elopement, and furiously chases them away. Bartolo's former servant, Berta, is astounded at the power of love.
Bartolo and Basilio realise that 'Alonso' must have been Count Almaviva. On Bartolo's orders, Basilio goes in search of a notary. Doctor Bartolo stuns Rosina with the news that 'Lindoro' is actually an agent for Count Almaviva, who intends to marry her. He shows Rosina the letter she wrote to Lindoro, who must have passed it to the Count Almaviva. Overwhelmed by Lindoro's betrayal, she reveals the plans she had made to elope with him, and agrees to marry Doctor Bartolo.
During a thunderstorm , Figaro and Almaviva secretly enter the house. Rosina demands that they leave, until she learns that her 'Lindoro', 'Don Alonso', and the Count Almaviva are the same person. The happy lovers try to escape together, but are trapped. Basilio arrives with the notary who will marry Rosina to Bartolo. The Count instead uses the notary for his own purposes, and bribes Basilio to witness his own marriage to Rosina. Bartolo arrives to find that the happy couple are married.
Venues & Tickets