Kiss Me, Kate
Cole Porter
Archived: 2016/2017
Overview
A whole lot more than Shakespeare's comic love story…
---
Music and Lyrics: Cole Porter
Book: Bella and Samuel Spewack
Critical Edition: David Charles Abell and Seann Alderking
1940s Baltimore. And it's op'nin' night of a musical version of The Taming of the Shrew. Rehearsals are over, costumes donned and there's a 10 minute curtain call. What you're about to witness is a whole lot more than Shakespeare's comic love story…
Leading lady and superstar Lilli Vanessi is the ex-wife of the show's charming leading man, Fred Graham. Fred has a fondness for flirtatious fresh-faced Lois Lane. Meanwhile, Lois' boyfriend Bill is getting himself into debt (under Fred's name) which leads to hairy encounters with a pair of foolhardy gangsters.

The stories unfold on and off-stage, comically intertwined in Cole Porter's classic musical.

Full of wit, dance, show business and hit songs including 'Another Op'nin', Another Show', 'Brush Up Your Shakespeare' and 'Always True to You in My Fashion', Kiss Me, Kate will leave any 'Tom, Dick or Harry' grinning from ear to ear.
---
Kiss, Me Kate is a co-production with Opera North. Music used on our radio advert is played by the Orchestra of Opera North.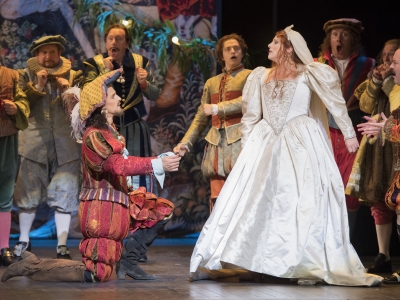 Venues & Tickets
Good to know
Sung in English