Le Vin herbé
Martin
Archived: 2016/2017
Overview
This rarely staged production of an exquisite and elegant tragedy promises a truly intoxicating experience.
---
Many opera-goers will be familiar with Wagner's Tristan und Isolde but Frank Martin's intimate opera offers a very different take on the legend. Tristan and Iseult are enemies; brought together when they mistakenly drink a love potion. Their affair inevitably leads to a tragedy.
Iseult the Fair, Princess of Ireland, is being taken by sea to marry King Mark of Cornwall by Mark's nephew, Tristan. She is deeply unhappy and hates Tristan for taking her away from her homeland and for having killed her fiancé in battle. During the journey they mistakenly drink a love potion concocted by Iseult's mother and intended for Iseult and Mark on their wedding night. Tristan and Iseult fall hopelessly and irrevocably in love.
The lovers run away from King Mark's court to live in the wild. Mark discovers them sleeping but leaves them unharmed. Tristan and Iseult regret the hurt they have caused others and themselves. Iseult returns to King Mark and Tristan to his homeland of Brittany.
Years pass and Tristan marries Iseult of the White Hands. When he is fatally wounded in battle, he longs to see Iseult the Fair one last time. She returns to him but too late; Tristan is dead. Iseult lies down to die beside him.

---
Sublimely sung … a vividly poignant marriage of music and theatre

The Independent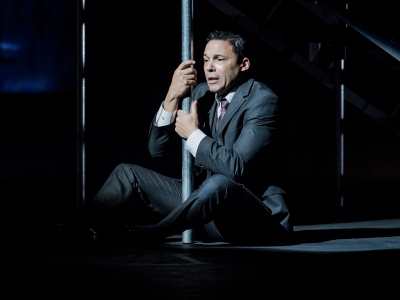 Venues & Tickets
Good to know
Sung in English with surtitles in English (and Welsh in Cardiff and Llandudno)
Performances start at 7.15pm