The Merchant of Venice
Tchaikowsky
Archived: 2016/2017
Overview
Shylock is proud and defiant but when he demands a debt be repaid, he becomes victim to his own intransigence – and the prejudice of others.
---
André Tchaikowsky was best known as a concert pianist but being a composer meant more to him.

The Merchant of Venice is a potent attack on prejudice and feels like a deeply personal response to his experiences as a child in the Warsaw Ghetto. It's amazing that it has languished unperformed for over three decades. But finally, following the performances David Pountney commissioned at the Bregenz Festival in Austria, we get to see it in the UK.

It goes without saying that this is a deeply serious opera but it is not without its moments of tender beauty. If you like opera to pack an emotional punch, we think this one's for you.
---
Co-production of the Bregenzer Festspiele, Austria, the Adam Mickiewicz Institute as part of the Polska Music programme & Teatr Wielki, Warsaw.
Performances at the Royal Opera House are supported by Welsh Government.
Supported by The John S Cohen Foundation.
Supported by the Getty Family as part of British Firsts.
Significant and deeply moving: a must see

The Independent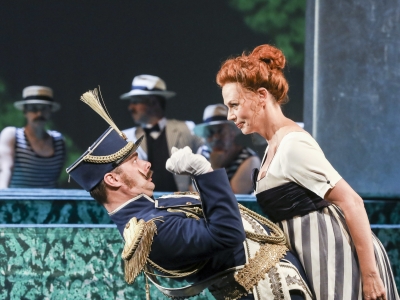 Venues & Tickets
Good to know
Sung in English with surtitles in English
UK Première