Dead Man Walking
Heggie
Archived: 2018/2019
Overview
Dead Man Walking is the first opera by Jake Heggie with a libretto by Terrance McNally
---
Dead Man Walking is the first opera by Jake Heggie, with a libretto by Terrence McNally. It is based on the book by Sister Helen Prejean that first found international fame when it was made into a film starring Susan Sarandon.
The story follows a nun who offers counselling to a convicted killer on death row, and later to his victims' families.
This opera features WNO Youth Opera Chorus, Youth Opera Alumni, WNO Chorus and guest artists.
Age guidance 18+
Includes an intense scene of rape and murder that some audiences may find upsetting.
---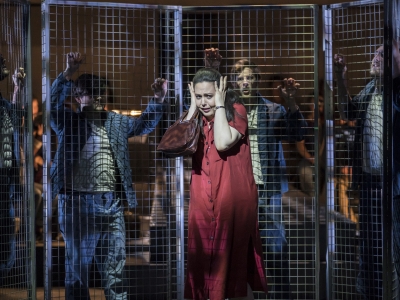 ---
---
Venues & Tickets
Good to know
Sung in English with surtitles in English & Welsh
Age guidance 18+
Multiple Opera Discounts:
Book Dead Man Walking + The Consul and save £5 per ticket (top 3 prices). 
Book Dead Man Walking + The Consul + The Prisoner | Fidelio Act II and save £7 per ticket (top 3 prices).
Facts
Pre-performance Q&A with Composer Jake Heggie (via video link) and Director Martin Constantine.
Venue: Weston Studio (Free with a ticket for the performance, but ticketed due to limited availability).

When: 7 June, 6.45pm-7.15pm
Synopsis
Prologue
Louisiana, 1980s

Act I
Brothers Joseph and Anthony De Rocher rape and murder a teenage couple. Both are convicted: Anthony is sentenced to life in prison, while Joseph receives the death penalty. At Hope House Sister Helen Prejean is teaching children a hymn. Against the Sisters' advice she has accepted an invitation to visit her pen pal, death row inmate Joseph de Rocher. At Louisiana State Penitentiary she meets Father Grenville and Warden Benton who warn her that Joseph is remorseless. Joseph tests her patience and commitment before asking her to be his spiritual advisor. Sister Helen accompanies Joseph's mother to the parole board meeting. Here she is confronted by the parents of the murdered teenagers and the appeal is denied. Sister Helen tells Joseph, and encourages him to admit his crime and ask forgiveness but he refuses. A jumble of conflicting voices clutter Sister Helen's mind and she faints.

INTERVAL
Act II
Joseph learns that his execution date has been set. Simultaneously, Sister Helen wakes up from a nightmare and is consoled by Sister Rose. On the evening of his execution, Joseph and Sister Helen discover mutual interest and are surprised to recognise each other as friends rather than prisoner and nun. Joseph's family arrive for a tearful final visit. Witnesses begin to arrive for the execution, and Sister Helen is again confronted by the victims' parents. Sister Helen visits Joseph for the last time. He breaks down and confesses to the murders. She assures him that he is a child of God, and that he will find redemption. In the execution chamber Joseph asks for forgiveness. As he dies, Sister Helen sings her hymn.
Venues & Tickets
---
WNO FREEDOM Season is proudly sponsored by Associated British Ports (South Wales) – 32 years of supporting WNO and our shared communities.

---