Rigoletto
Verdi
Archived: 2019/2020
Overview
Verdi wrote that Rigoletto was his best opera, and with its dramatic storyline and score, it's easy to see why it continues to be such an enduring favourite.
---
The Duke can have any woman he wants, and lives a life of frivolity and corruption. Rigoletto, the Duke's jester, ridicules the fathers and husbands of the women the Duke flirts with, who then set about seeking their vengeance against him. But Rigoletto has his own daughter's honour to protect, and events unfold with unintended consequences.

Verdi wrote that Rigoletto was his best opera, and with its dramatic storyline and score – featuring the instantly recognisable La donna è mobile – it's easy to see why it continues to be such an enduring favourite. This timely revival of WNO's acclaimed production is set in the White House during the Kennedy era, and sees Mark S Doss (Tosca, Spring 2018) return to the Company in the title role.

#WNOrigoletto
---
world-class performances from chorus and orchestra

The Sunday Times
---
---
Welsh National Opera's Rigoletto is gripping, moving, and topical.

Get The Chance
---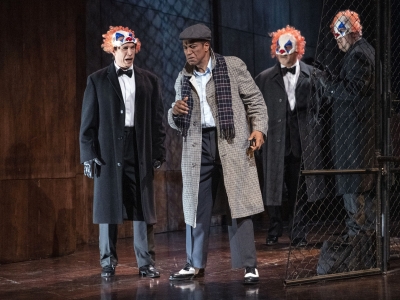 ---
Dedicated in memory of David and Mary Mills in gratitude for their generous legacy.

---
Venues & Tickets
Good to know
Sung in Italian, with English surtitles (and Welsh surtitles in Cardiff and Llandudno)
Under 16s
£5 when accompanied by a full price adult tickets (subject to availability)

Ages 16 – 29
Tickets for £10 (subject to availability). Not available on top two or bottom price tickets
Synopsis
Act one
At a party, the Duke lusts after a mysterious young woman whom he has seen in church. The festivities are interrupted by Count Monterone, demanding the return of his daughter who was seduced by the Duke. Rigoletto, the Duke's right-hand man mocks him, and is cursed by Monterone. An assassin, Sparafucile, offers Rigoletto his services.
Rigoletto returns home to his daughter, Gilda, and instructs her attendant, Giovanna, to watch over her. Hearing a noise outside, he leaves, while the Duke enters disguised as a poor student. Gilda, recognising him as the man she saw at church, falls for his trickery. The courtiers are preparing Gilda's abduction, as they believe she is Rigoletto's mistress and Rigoletto is tricked into helping them.
INTERVAL
Act two
The Duke is delighted to find the abducted Gilda waiting in his bedroom. Rigoletto desperately searches for her, and reveals that Gilda is actually his daughter. Once released, Gilda tells him what happened and Rigoletto swears to get his revenge.
Act three
Rigoletto takes Gilda to Sparafucile's hut to show her the Duke's real character. Here, she witnesses the Duke flirting with Maddalena, and is heartbroken. Sparafucile and Rigoletto agree on a price for the murder of the Duke, with Rigoletto promising to return at midnight to throw the body into the river. However, Maddalena convinces Sparafucile to spare the Duke; he agrees that if someone else should appear he would murder them instead. Gilda overhears the conversation, having disobeyed her father's orders to leave, and decides to sacrifice herself for the Duke, because she still loves him. Rigoletto collects the sack with the body, and finds – too late – that it contains his dying daughter.
Venues & Tickets