La bohème
Puccini
Archived: 2022/2023
Overview
Better to have loved and lost than never loved at all
---
One cold Christmas Eve, four penniless artists – a painter, a musician, a poet and a philosopher – have their lives changed forever when they are unexpectedly visited by their neighbour Mimì, looking for candlelight. Rodolfo opens the door to be hit with a love at first sight that burns brighter than a flame.

Months later, their youthful passion is challenged by the harsh realities of life when Mimì becomes gravely ill. Rodolfo and his friends try their best to look after her but can his love prevent tragedy?

La bohème is a tale of love, loss, rebellion and freedom and is one of opera's most adored stories. WNO's timeless production paints a vivid portrait of bohemian life in Paris at the turn of the 19th century, enhanced with atmospheric projections and Puccini's gloriously romantic music. It's guaranteed to touch your heart and make you fall in love with Rodolfo, Mimì and their friends time and time again.

#WNOboheme
---
---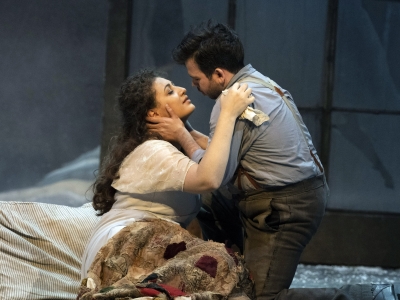 ---
---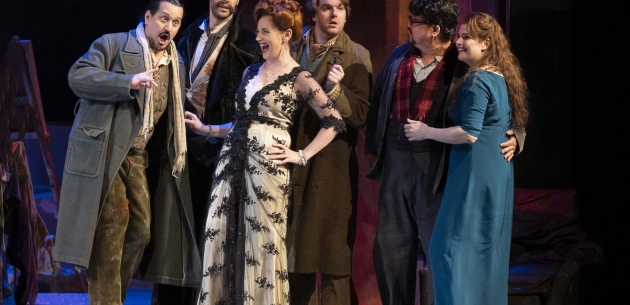 Explore behind the scenes
---
WNO's new productions and new commissions are supported by the John Ellerman Foundation and WNO Leading Supporter, ABP.
---
Venues & Tickets
Good to know
Sung in Italian, with surtitles in Welsh and English
Under 16s
£5 when accompanied by a full price adult tickets (subject to availability)

For audio description, please click here
Synopsis
Act One
A garret, Paris, Christmas Eve
Rodolfo and Marcello are freezing and so burn Rodolfo's manuscript. Their friend Colline has failed to pawn some books, but Schaunard arrives with provisions – Christmas is no longer so bleak.

Their landlord, Benoit, arrives to demand the overdue rent. They trick him and send him packing without paying. Rodolfo remains while the others head out to Café Momus.

Mimì, a neighbour, knocks on the door to ask for a light before fainting and losing her key. Rodolfo pretends not to have found it to give them more time to talk – they fall in love. They go to meet the others.
Act Two
Café Momus, later that evening
After buying Mimì a hat, Rodolfo introduces her to his friends. Over dinner, Marcello is annoyed by Musetta. She is paying attention to her elderly admirer, Alcindo, so Marcello continues to ignore her. Eventually he gives in, and she tells the waiter that Alcindo will pay their bill. They depart into the Christmas crowds.
Act Three
The Barrière d'Enfer, February
At dawn, customs officers doze by the tollgate into Paris, Musetta leads all-night revellers in a nearby café and workers head to their early shift.

Mimì tells Marcello that she can't cope with Rodolfo's jealousy. He advises them to separate. Rodolfo complains that Mimì is a flirt before admitting that he is scared she will die soon. Mimì overhears. She tries to break up with Rodolfo but they agree to wait until spring.
Act Four
A few months later
Mimì and Musetta have left Rodolfo and Marcello for other men but still distract the artists. Schaunard and Colline arrive at the garret with some food and the four friends hold a mock banquet. They are interrupted by Musetta who has found Mimì on the street, clearly dying.

Musetta gives Marcello her earrings to sell for medicine and a doctor; she goes to buy a muff to warm Mimì's hands. Colline decides to pawn his beloved overcoat and leaves with Schaunard.

Mimì and Rodolfo remember how they first met and fell in love. The others return, but it is too late – she is beyond their help.
Venues & Tickets