The Pied Piper of Hamelin & The Crab That Played With The Sea
The Seligman Youth Opera Performance
Archived: 2022/2023
Overview
A thrilling double-bill, with a promise at its heart
---
Revel in the blended sound of over 80 young voices as WNO Youth Opera present their latest showcase.

With a touch of the supernatural, a sprinkle of satire and a load of mayhem, follow the light-hearted story of The Pied Piper of Hamelin as he uses his magical pipe to rid the town of rats. However, a broken promise compromises the town's happiness as the piper seeks revenge. The illustrative music with wistful jigs, perfectly leads onto The Crab That Played With The Sea, based on Rudyard Kipling's Just So Stories. Encounter the two phases of the tide and observe a crab's transformation from an oversized troublemaker into a small, humble one.

Directed by Angharad Lee and featuring imaginative puppetry and a small ensemble of instrumentalists, the set is inspired by the youth camps of Llangrannog and Glan-Llyn and the vibrancy of village playgrounds.
---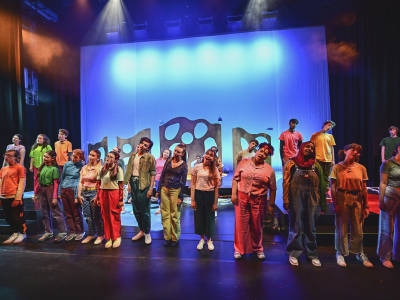 ---
WNO gratefully acknowledges the generous bequest of the late David Seligman and the Philippa and David Seligman Gift
---
WNO Youth Opera is supported by the Gibbs Charitable Trust, The Thistle Trust, and The Boris Karloff Charitable Foundation.
WNO's Talent Development Programme is supported by the Bateman Family Charitable Trust and the Kirby Laing Foundation.

Venues & Tickets
Good to know
Sung in English with surtitles in English and Welsh
Performed in the Weston Studio
Synopsis
The Pied Piper of Hamelin
This version of The Pied Piper of Hamelin is based on Robert Browning's poem which was published in 1842.
The libretto uses the original poem to tell the story of this well known classic.
A mysterious musician dressed in red-and-yellow checks offers to rescue the medieval town of Hamelin from a plague of rats with his magical pipe-playing. He proves as good as his word—but the town's greedy Mayor still tries to cheat him of his agreed fee, and the Piper retaliates by luring the town's children away.
The moral of this original poem? Stay true to your word.
The Crab That Played With The Sea
Based on Rudyard Kipling's Just So Stories, this lovely opera in essence deals with the idea of individualism, at what that means in relation to the wider world.
The Crab, wanting to be fiercely independent, ignores the lessons and the rules given to them by the Eldest Magician (the creator of the World) to listen and obey 'man'. Charting their own course, the Crab becomes the ruler of the seas and defies the Eldest Magician. Seeing this, the Magician punishes the Crab by removing their shell.
At its heart, the opera deals with what it means to remain an individual whilst trying not to disturb the natural order of the World.
Venues & Tickets