Welsh National Opera reaches thousands of people each year with both large-scale touring opera and orchestral concerts. What you may not know is that we also run an award-winning engagement programme, designed to support people of all ages to take part in singing and classical music, extending across key areas of our touring circuit. We call these WNO 'Hubs' and they include our home in South Wales, North Wales and the West Midlands with a focus on Birmingham and the Black Country; in the last few months we are delighted to have had the opportunity to set up a programme in the South West of England with a specific focus on Plymouth and Southampton. These are areas where we have long enjoyed relationships by touring to theatres in each city, but until recently haven't provided a year-round programme with local communities. With the recent appointment of Jamie Harris, our new Producer based in Southampton, we are starting to build a programme of activity for early years through to people in retirement. It's very early days, but Jamie's experience with music and arts and his local knowledge is set to create a programme that will begin to nurture young talent, support artistic confidence, experimentation in budding performers and plenty of opportunities to join in with accessible regular activity in the heart of the community.

We caught up with him to find out more about his role and future plans: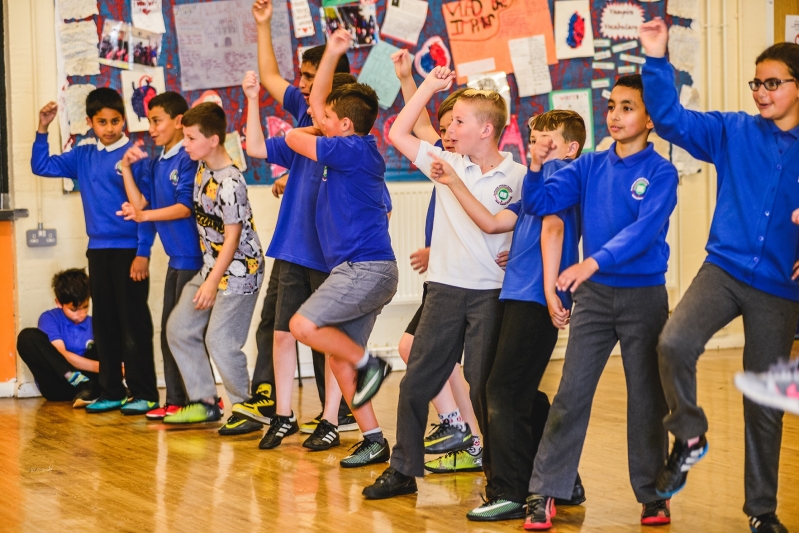 'The role of a producer is to connect with the communities we tour to on a year-round basis, in a way that is relevant, inclusive and celebrates diversity alongside an understanding of the local area. Therefore, when the touring company moves to the next destination there are still a host of ways to access really high-quality arts provision. I'm pretty new in post and my role is to create programmes that engage at a local level, working in schools, colleges, community and leisure centres, with refugee centres, care homes, hospitals, small theatres, large theatres, concert halls and even taking our work outside to parks and recreation grounds. With so many ways to get involved we were delighted to have worked with nearly 60,000 people across our engagement programme last year and the Southampton and Plymouth Hub, although still in its very early days will, given time, space and support, continue to enhance the artistic landscape of the area in a similar way.

My job is to oversee projects from the earliest seed of an idea to delivering the finished product. That includes everything from initial conversations with a community groups to find out what kinds of things they would like to get involved with to finding the right people to make that happen. I recruit the creative teams (usually comprising of players, singers, a composer and workshops leaders), and then manage the planning, liaising with community partners and venues, alongside budget management, logistics and everything that might (and does) crop up in between.
WNO has always believed that a connection to place and community matters. We have grown out of commitment to community singing and have for 75 years held on to the value that everyone has the right to access the arts no matter what their background or where they are from. We also believe the title 'National' is one that should be earned and not taken for granted.

That is why we have community hubs, because having a permanent presence in a place other than Cardiff, where people take part with WNO every day of the year, will begin to play a vital role in democratising access to opera and classical music across major parts on Wales and England, where we can build up relationships not just for the project's duration or until the funds dry up, but that continue to evolve and last a life time.

Our aspiration is to create inspiring and innovative opportunities for communities across Wales and England to express themselves through singing. We pride ourselves on giving opportunities to those with little or no access to the arts. Here in Southampton, we plan to establish a Youth Opera, programme where young people from all backgrounds can sing with us every week to express storytelling through music, drama and movement and to perform with the company on a regular basis.
WNO believes in 'the power of opera to transform lives' – whether helping to improve the self-confidence of young people we work with or improving cognitive ability in patients suffering with dementia or other degenerative diseases, engaging with opera can absolutely achieve this. These are all aspects of my job that I will get the pleasure of helping to support by developing our engagement programme to meet the needs of the community on my doorstep.

More than anything else, being creative, collaborating with others and just the sheer love of singing is simply good for the soul. The best example of this, I can probably sum up anecdotally: I attended a session in a primary school where one participant was a little distracted, they just couldn't stop talking. The moment our vocal leader started singing, the young person immediately sat bolt upright in silence and was totally bowled over by the sheer power not only of her voice but the emotions she conveyed through her talent. As the whole group began to sing, it was quite clear that this person had a special talent, and we hope to be able to develop their skills further.

Looking ahead, I am most looking forward to extending the amazing engagement work WNO is famous for and really embedding a programme in Southampton, a city I have called home for the last nine years, that is accessible, relevant, creative and above all fun. A vision that has driven WNO for over 75 years and one that we hope will stand us well for the next 75 to come.

I am a pianist and the mission of enhancing music education and access to music is something I am immensely proud to be delivering on behalf of Welsh National Opera.'
---