Welsh National Opera's Head of Print & Design, Susannah Atherton-John, joined the Company five years ago and works from the WNO Marketing Department offices in Cardiff's Wales Millennium Centre. She is responsible for everything that requires a creative concept, designing and/or printing for WNO, in any format or material – not just the large advertising posters you might see around that promote our operas and concerts.

The variety and the scale of work is vast which means no two days are ever the same. Each project can be anything which needs to be designed, WNO-branded, edited and printed for any department of the Company: from lanyards to lorries; T shirts to teachers' resources; big banners to brochures; posters to programmes and leaflets to WNO logos. The biggest job so far that Susannah had to manage was the WNO branding of the new temperature-controlled articulated lorry used to transport WNO Orchestra instruments and equipment during Company tours. The scale was immense and was quite a challenge for her and the graphic designer and printer. She also gets to develop some fun stuff too with her team of graphic designers, such as the WNO cartoon musicians for WNO Family Concerts and Play Opera.
The key creative part of Susannah's job is developing the main imagery for promoting WNO's operas every year. The repertoire for WNO opera Seasons is planned years in advance. Each opera needs a fresh, original and engaging image that helps encapsulate the story of each opera and encourage people to buy tickets. It is a fascinating process that takes months to evolve an idea and concept into an image that works. It needs extensive research, involving quizzing directors and set designers about their vision for the production (often months before they have fully developed their ideas) and keeping up to speed on lead singer casting, usually at least 18 months before rehearsals begin. With brand new productions and newly commissioned operas this can be challenging! Once Susannah comes up with initial ideas she works closely with a creative agency and her Head of Marketing colleague Martina Fraser in developing the final 'Hero Images' for use on all WNO's digital platforms such as the website and social media, and all printed material.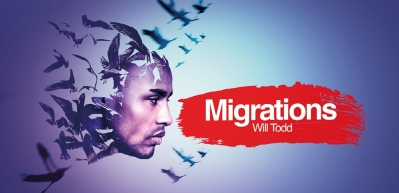 Another main part of the Head of Print & Design role is Editor of WNO opera and concert programmes. This involves a huge amount of research, collating information, planning content, and commissioning articles from academics and specialists, choosing illustrations and imagery, writing copy, and editing everything of course. All our programmes are bilingual, and Susannah works closely with WNO Dramaturg, Elin Jones, who writes notes on concert repertoire and is our Welsh Language Editor. Susannah is also responsible for the WNO brand – ensuring all WNO visual material (printed or digital) is using the right fonts, design style, correct logos, and brand colours etc.
'It's the sheer variety of all the work I do for WNO that is so interesting and enjoyable. I work with great graphic designers, printers and production companies. It's such a privilege working among such amazingly talented and dedicated people at Welsh National Opera, not just our musicians and singers – but also set designers, prop makers, costume makers, make-up and wigs, production and stage managers, music, orchestra and chorus managers and hard-working admin teams across fundraising, youth & community, marketing and communications. So lucky to be even a little cog in the WNO machine. At 'curtain-up' – when everything comes together, the sound of the 'half' bell, calls for performers, the buzz of an expectant audience, then the Orchestra fire-up and the Chorus come in at full blast – still gets me every time!' Susannah
---