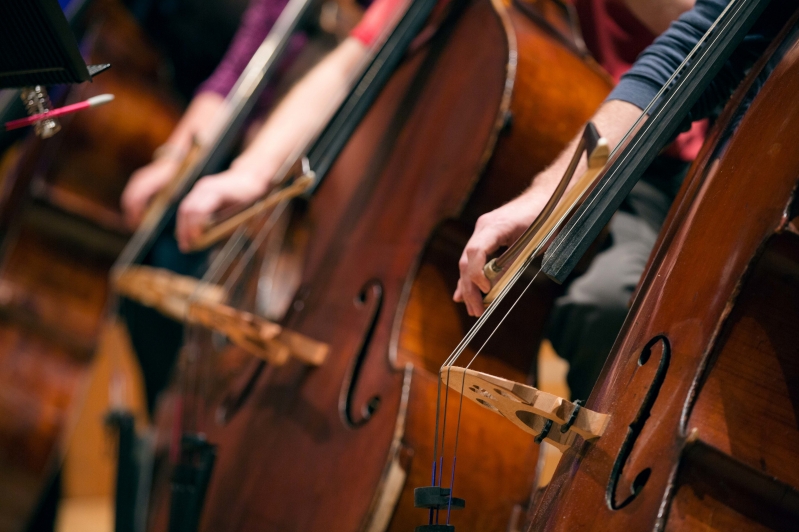 The festive season is upon us once again and with only a few weekends to go before the big day we are here to help you find the perfect gift for your loved ones, all from the comfort of your home.
Here is our Christmas gift guide for those of the musical persuasion.
For the opera fans why not treat them to a ticket (or two) to one (or more) of our Spring 2019 operas. We have three heart wrenching operas to choose from: Un ballo in maschera, Roberto Devereux and The Magic Flute – all guaranteed to rouse emotions.
---
Un ballo in maschera
A neo-Gothick tale of deception, intrigue, love and revenge complete with fortune tellers, midnight trysts beneath the gallows and oaths of vengeance – it's also a moral tale about how not to be a King. Based on the real-life assassination of King Gustav III of Sweden who was shot at a masked ball in 1792, the intense scoring of Verdi's music provides the musical passion that drives this thrilling new production, directed by WNO Artistic Director David Pountney and conducted by WNO Conductor Laureate Carlo Rizzi*.
Roberto Devereux
Featuring some of Donizetti's most spine-tingling melodies this powerful production frames the dramatic and heart-rending love story of Queen Elizabeth I and Roberto Devereux, the Earl of Essex. Laying bare the conflict between her public duties as ruler of England and her private feelings as a woman, the dramatic intensity and the striking design of this production is guaranteed to leave your heart racing.
The Magic Flute
WNO's irresistible production of The Magic Flute transports you to a dream world where you'll meet colourful characters, including a newspaper reading lion and a fish doubling as a bicycle. Combined with a witty story and Mozart's sublime music, including the magnificent Queen of the Night aria, it adds up to an unforgettable opera experience for all ages.
*Carlo Rizzi conducts Cardiff and Birmingham performances only
---
WNO Orchestra in concert
A ticket to our next concert at the International Concert Series in St David's Hall on 27 January will put a smile on any classical music enthusiast's face this Christmas. Marking his return to the concert series for the first time since 2008, WNO Conductor Laureate, Carlo Rizzi conducts an exciting programme of late-Romantic masterpieces. Joining the Orchestra on stage will be one of the world's leading violinists, Alexander Sitkovetsky, who will be sure to awaken the scotch spirit in Bruch's rhythmic snap, Scottish Fantasy.
Or, how about a trip to Vienna? Following an extremely well received concert in 2018, WNO Orchestra will transport you away from the cold January weather and into a world of musical magic in our A Night in Vienna concerts. This year we present a programme with not just our talented Orchestra but also the extra dimension of song, as WNO Associate Artist Harriet Eyley joins the musicians, to truly uncork the spirit of Vienna in the concert hall. We'll be taking the concert on tour to Newtown, Bangor, Cardiff, St Davids and Newport during the first few weeks of January with the first concert on 4 January in Swansea.
---
Don Pasquale
Donizetti's classic comic opera, but not as you know it. This riotous new version of Don Pasquale is set in and around Pasquale's doner kebab van and follows the story of an old bachelor's romantic delusions and the young lovers who outwit him. Daisy Evans's contemporary production brings the traditional tale up to date for the 21st century and this fun, snappy and snazzy production will be on tour from May onwards.
---
WNO Friends membership
For the WNO fans why not give them the gift of friendship? At WNO we love making friends. As a WNO Friend you will be among the first to know what we are doing and where; receive a Friends magazine three times a year, taking you straight to the heart of the company; all while helping us provide spectacular opera. You'll even get to book our 2019/2020 Season ahead of the general public when it goes on sale in the Spring.
So there's our gift guide for Christmas 2018. If you would like more gift inspiration, join us over on Instagram (@WNOtweet) and countdown the days to Christmas with a daily festive treat from WNO.
Wishing you all a wonderful time this festive season and we look forward to seeing you in the New Year for another sensational year of music making.
---