The 1970s was a decade of new productions at Welsh National Opera. Among the collection was the world premiere of Welsh composer Alun Hoddinott's first opera in 1974. This was the first new full-length opera to appear in Wales for almost 15 years and the first of any kind since Grace Williams's one-act comedy, The Parlour, which WNO premiered in 1966. Our production of Hoddinott's The Beach of Falesá was therefore something of a landmark.
Already established as a prolific composer of an impressively wide-ranging body of work, Hoddinott had been waiting a long time to write his first opera when he was commissioned to compose a piece for his national opera company. With five subjects ready and waiting, he was torn between the story of Rawlins White, the first Welsh martyr of the Inquisition and Falesá.
To me all that's gone before is almost a preliminary to writing this major work. Though, you know, I don't suppose many people would claim that five symphonies are a preliminary. I knew as soon as I read the Robert Louis Stevenson story that this was an opera, so I went ahead with it. And, of course, the other thing was that the principal role in it was ideal for Geraint [Evans]

Welsh Music, Spring 1974
Robert Louis Stevenson's The Beach is a tale of intrigue among traders on an unnamed island in the South Seas. Hoddinott was not the first to be inspired by this story. Famed Welsh poet and writer Dylan Thomas had already adapted the story as a film script however, despite interest from Richard Burton, it was never filmed. The work was eventually released as a film for voices, featuring Emmy Award winning Welsh actor Matthew Rhys, on BBC Radio 3 in 2014 to commemorate Thomas's centenary.

With the commission in hand, Hoddinott sent both the original story and Thomas's little-known script to the Cardiff novelist and poet Glyn Jones, asking him to provide a libretto. Over a period of three years, the story of trickery, fear and demoralising sense of doom, was brought to life.
All the different and the varying aspects of my style have been drawn together into one work. I think many people will find it a surprise! After all, if you are writing something which is going to last for two and a half hours you must put in as much variety as you can. And the sets are beautiful, — I mean, they're even more gorgeous than I imagined, very romantic and beautifully coloured

Welsh Music, Spring 1974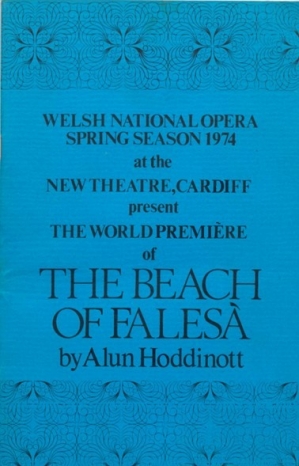 A strong cast was assembled – Sir Geraint Evans as Case, Sandra Browne as Uma and Forbes Robinson as Black Jack.

The opera was produced by WNO Director of Productions Michael Geliot and designed by Alexander McPherson who later went on to become Head of Design at Bristol Old Vic.

Conducted by Richard Armstrong, the opera premiered at Cardiff's New Theatre on 26 March 1974 and marked the beginning of Welsh National Opera's Spring 1974 Season, which also featured Mozart's Idomeneo, Puccini's La bohème and Bizet's The Pearl Fishers.

The novelty of a new opera by a living composer attracted good houses and four and a half million people tuned in to the television broadcast.
---