Welsh National Opera's Autumn Season tour has come to an end but our work does not stop there. Christmas is around the corner and as one of our closing acts of 2019, we wanted to make sure we shared some festive spirit. Tonight and tomorrow we will be holding our annual Christmas Celebration concert where we bring together our extended family, WNO's Youth Opera and Community Chorus, for some festive singing.

The concert includes a wonderful mix of traditional Christmas songs and carols and the chance for the audience to join in. We caught up with Youth Opera member Megan Jones who is performing in the concert.

When did you first join Youth Opera?
I joined in 2016 because I love classical singing and loved the idea of joining a group of young people who shared a similar interest, and I'm so glad I did – I've had the best experience.

You performed at last year's concert, what do you love about it?
The concert really gets me into the festive spirit. Not only does Youth Opera get the opportunity to perform, but we also get to watch the Community Chorus perform a few pieces. It's so lovely speaking to people after the concert about how we've been able to get them in the Christmas spirit too.

What's your favourite piece that you're singing in the concert?
We're doing some beautiful pieces this year. Glow by Eric Whitacre has a stunning melody which really paints the picture of winter, while Veni Veni Emmanuel is so joyful and a complete contrast, especially as it's an acapella piece. However my absolute favourite is 'Do You Hear What I Hear?'. It's one of my favourite carols and both Youth Opera and the Community Chorus join together to create the most beautiful sound.

---
Youth Opera and Community Chorus rehearse separately for the concert for two months and then come together on the day of the first performance to practice together. The Community Chorus rehearsals were led by Community Chorus Master Kate Woolveridge and Repetiteur Sharon Richards, who thinks we are all in for a real treat:
The spirit of Christmas, sung from the soul, what a truly amazing and moving choral sound I hear as I accompany the WNO Community Chorus.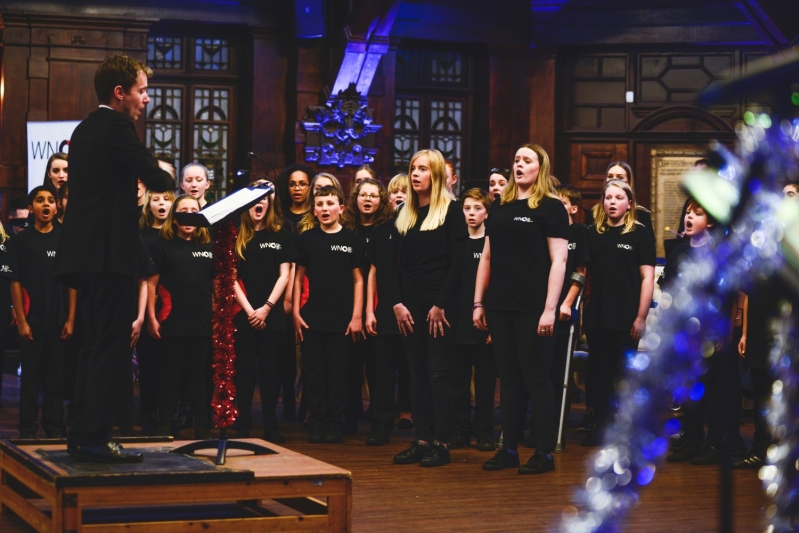 We hope you can join us for an evening of festive music, and if you're thinking about taking part in future Community Chorus events, Allan Jones a regular member says you should 'give it a go':

'Any music lover would feel privileged to work with world class singing and language coaches. I have experienced great joy in singing under the batons of Carlo Rizzi and Lothar Koenigs and the coaching of Stephen Harris, Tim Rhys Evans, Kate Woolveridge and David Doidge as well as top-drawer repetiteurs Sharon Richards and Nicola Rose. With the Community Chorus I have enjoyed 12 years of singing in English, Italian, French, German, Russian and Welsh.'
---