The Magic Flute opened last week, and its idiosyncratic look is a big part of the charm and appeal of this production. Using bold colours throughout, with symmetrical sets, trap doors and a few surprises this opera is visually stunning.
The Queen of the Night is one of operas most iconic roles. The soprano has the hugely recognisable aria, Der Hölle Rach, which is one of the most challenging pieces to perform and she brings an air of malevolence to the whole production. In WNO's production, the character has been given some wonderfully dramatic costumes to emphasise her power and mystery. Designed by Kevin Pollard, her main dress (as pictured) ensures her presence is well and truly felt whenever she appears. It's so heavy that two dressers wait under the stage to help her out of the skirt! Anna Siminska and Samantha Hay share the role in our Spring tour.
---
Papageno, the bird-catcher, wears a glorious array of orange, red and yellow feathers which show off his larger than life character, while his eventual love Papagena starts off in an understated disguise before revealing her own stunning plumage.
---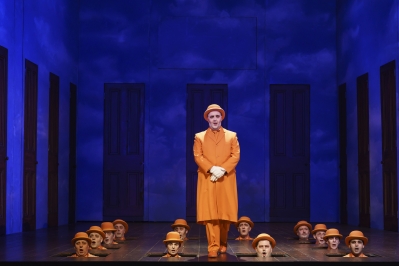 If you've seen the production before or if you've scrolled through the album of pictures on The Magic Flute event page you will also see the distinctive orange suits and matching bowler hats (29 in total) sported by many of the Company, which sit perfectly within the Magritte-inspired set.
---
Our heroine Pamina is, of course, in the traditional white of all fairy tale princesses representing her innocence as she waits for her be-suited hero Tamino to come and rescue her.
So if you're coming along to the remaining performances, while you're enjoying the fabulous music of Mozart, have a look around the stage and enjoy the glorious outfits on the stage too.
---