Just as many Hollywood movies rely on the plot device of the big reveal, it is also often used in operas. Although the actual 'reveal' may vary, the essential idea is the same – to surprise the audience with an unseen twist [*spoilers alert!*]. Think The Sixth Sense (1999) – surely one of the greatest reveals in cinematic history? Who, out of the original audience (as unfortunately it's been many years since the reveal was 'revealed' to all) could have foreseen the mind-blowing twist at the end? … Although it's not a plot twist that is featured in any opera that we can think of!
However, one of this year's most successful films, the Oscar-winning Parasite, ties in (although on a different level) with the device of disguises used in operas ranging from Così fan tutte to Fidelio (Act II of which we performed in last summer's FREEDOM Season). All rely on disguises at various points throughout the story to heighten the entertainment factor, or to enable a plot line to work.
Following a similar line to the characters in Parasite, Beethoven's Fidelio features Leonora, who disguised as a man, takes up a job as a prison worker in order to free her husband, Florestan, one of the prisoners. Whereas Così fan tutte (and Figaro too) features disguise as a means to fool other characters into revealing their true behaviour – basically to catch them out. The two couples in Così are tested when the women fail to recognise their betrothed because the men have disguised themselves, each tricking the other's partner into being unfaithful.
La Cenerentola - there's not just one 'big reveal' in this version of the Cinderella story, instead the whole opera is interspersed with characters in disguise: there's the obvious Angelina (aka Cinderella) at the ball; but the Prince and his valet also spend time disguised as each other; and Alidoro (philosopher and tutor, aka the 'Godmother' role) disguises himself as a beggar in order to meet Angelina and gauge whether she's worthy. All the twists eventually having been revealed to facilitate the happy ending.
One of the most significant cinematic 'big reveals' of a generation, and the most often quoted: 'I am your father', is of course Darth Vader talking to Luke Skywalker in Star Wars: Episode V – The Empire Strikes Back, and this reveal definitely pops up a lot in operas. Shock parentage features in no less than three of the operas in our current repertoire: The Marriage of Figaro (again!), Les vêpres siciliennes and Il trovatore, which forms part of our Spring 2021 Season.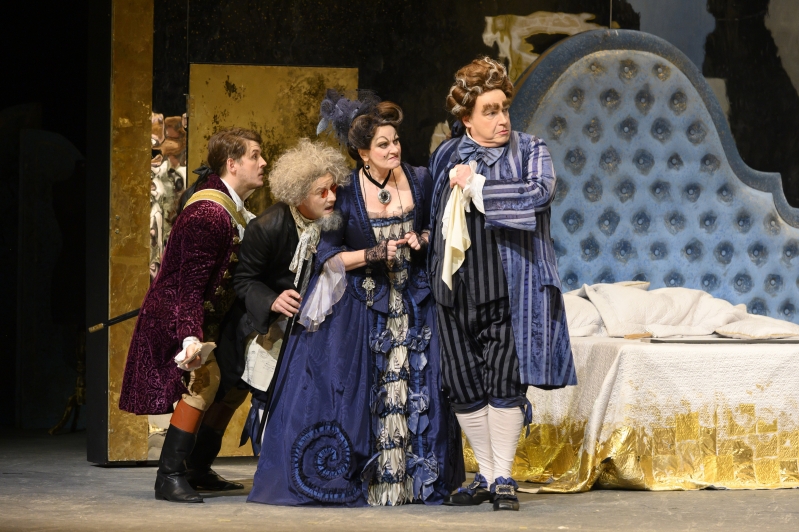 In Figaro the shock reveal is that Figaro is Marcellina's son. Not just that, but that he is basically Marcellina and Dr Bartolo's love child (what a thought!). In Les vêpres siciliennes we, and they, discover that Montfort is Henri's father – revealed through a letter sent to Montfort on Henri's mother's death.
Whereas in our Autumn Season's production of Jenůfa the 'secret baby reveal' is far darker: Jenůfa is secretly pregnant by Steva, out of wedlock (to coin a somewhat old fashioned phrase); once born, the Kostelnička (her step-mother) secretly drowns the baby in an attempt to save her honour. All is revealed on the wedding day of Jenůfa and Laca, who stands by her despite the shame.
Finally, in Il trovatore it turns out that Leonora's lover, Manrico, is in fact the brother of Count di Luna. The Count has killed Manrico, not yet knowing they are actually brothers, as he also wants to marry Leonora. This is all because Azucena killed her son years before, raising Manrico as her own, all to exact some (very twisted) revenge on di Luna's father.
Only in opera…(or the movies!)
---
---