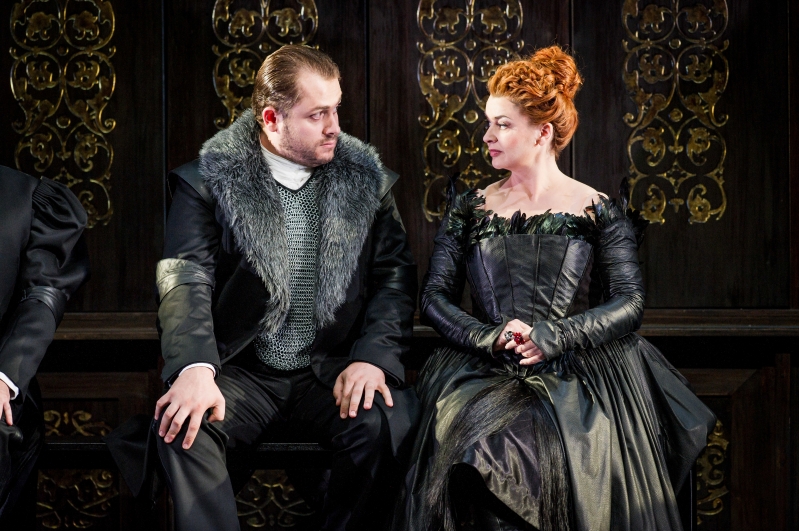 Opera has a fruitful relationship with royalty. On this, the Queen's Jubilee week, we look at how royalty has influenced the artform: be it commissioning new works, establishing companies or theatres, to characters within operas.
A natural place to start would be the various royal opera companies that exist in different countries around the world, from The Royal Opera, formed in 1946 and based in the Royal Opera House in Covent Garden, London, which itself was established after World War II when the idea of public art subsidy was accepted. To the Royal Swedish Opera in Stockholm which was founded back in 1773.
Then there are the Kings and Queens that appear in operas. Verdi's Un ballo in Maschera is based on the events at the Swedish Opera when its founder, King Gustav III was shot at the opera house in 1792.
Another example that readily springs to mind, with Queens aplenty, is Donizetti's trio of operas, banded together under the moniker The Tudors for WNO's Autumn Season in 2013: Anna Bolena, Maria Stuarda and Roberto Devereux, each portraying an Italian's view of the English monarchy. Complete with Vivienne Westwood style costumes adorning our Elizabeth I Roberto Devereux returned to our stage in Spring 2019. Set in a similar era is Verdi's Don Carlos with its version of the historical events surrounding Don Carlos and his father King Philippe II of Spain.
Then there are the countless fictional royals, from La Cenerentola (Rossini's Cinderella)'s Prince Charming to Alice in Wonderland's Queen of Hearts, Shakespeare's Macbeth or Queen of the Fairies, to Wagner's Wotan, King of the Gods or who could forget The Queen of the Night in Mozart's The Magic Flute with her demanding yet impressive aria.
Last but by no means least, are the attendances by members of the royal family at opera performances – in WNO's case, by our Patron, HRH the Prince of Wales whose most recent visit was, quite aptly, to our opening night of Un ballo in Maschera in 2019.
More recently WNO Youth Opera performed not only for our Patron but also for Her Majesty, The Queen at the reopening of Wales' Senedd. Our first ever Royal Patron was Diana, Princess of Wales, who's attendance at a performance by WNO in New York in 1989, caused both a buzz of excitement and for road repairs to be immediately carried out. The visit was even seen in an episode of The Crown.
Royalty and opera go effortlessly hand-in-hand and the pull of royalty can surely be said to be an undeniable influence on opera as an artform.
---