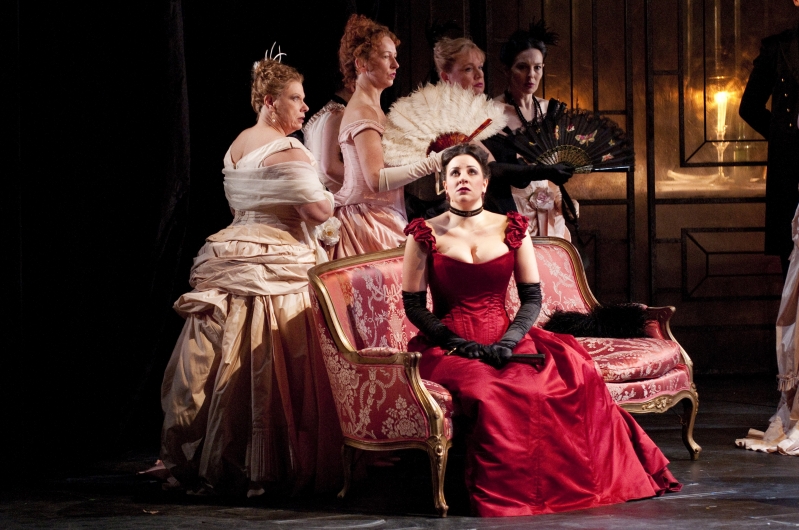 As some of you will know, Verdi's La traviata is a classic tale of heartbreak. La traviata means the fallen woman and it is based on Alexandre Dumas's (son of The Three Musketeers author) play, La Dame aux camélias, telling the tale of a courtesan – a 'woman of pleasure' – who leaves her life for a man who loves her. But she cannot escape her past…
The opera is set in Paris of the 1850s – contemporary to the time it was written – and was originally called 'Love and Death', a title that gives away the plot somewhat. But then, doesn't such a title cover a lot of operas? La traviata precedes many operas that could fall under such a title, including Puccini's crowd-pleasers, La bohème, Tosca and even Madam Butterfly. In these operas the lead role, the title role, is that of a woman who 'sells her soul' – or rather, her body – in one way or another, yet falls hopelessly in love with a man who she has to give up…to then die.
The obsession of 19th century music, literature and the visual arts with she who has strayed from the path' – (the literal translation of La traviata) – may have embodied a degree of hypocrisy, but it also inspired some of the most heartfelt musical expression of human sympathy. The hypocrisy lies in permitting the audience the titillation of watching a woman behaving badly for three acts on the condition that she points up the moral by dying miserably in the fourth. The males in the audience in 19th century Paris were not above visiting such women themselves, but they still demanded that their wives and daughters were presented with an elevating moral lesson.

David Pountney, Spring 2014, discussing our appropriately titled Fallen Women Season.​
Violetta, the courtesan in La traviata, suffers from that 'popular' malady of heroines in the 19th century, consumption (as does Mimì in La bohème), which we now know as TB. And it is only her deathbed that she and the love of her life, Alfredo, are reunited. It is the classic tale of falling for someone from the wrong side of the tracks – to give the subject its modern parallel.
Giorgio Germont, Alfredo's father, does not approve of his son living with an ex-courtesan, no matter that she is paying for everything, and uses the upcoming marriage of his daughter as the reason Violetta must leave his son. Suffice it to say that she sacrifices her happiness and returns to her old life. Alfredo, not knowing the truth, blames the split on her and acts offensively. However, time passes, she is on her death bed; his father feels bad and tells the truth; they reunite; all looks as though it will be a happy ending…but be prepared and bring those tissues.
Our 2009 production has all the lavish detailing that you would expect to see from a high society setting from the 19th century, be it Violetta's 'patron' Baron Douphol's party, a townhouse, salon, or the bedroom of Violetta and Alfredo's country house. This is a sumptuous David McVicar production – at one point, the so-called 'enfant terrible' of opera. Who, along with designer Tanya McCallin, has produced a set that truly envelopes you in the era.
See our production of La traviata as part of our Autumn Season.