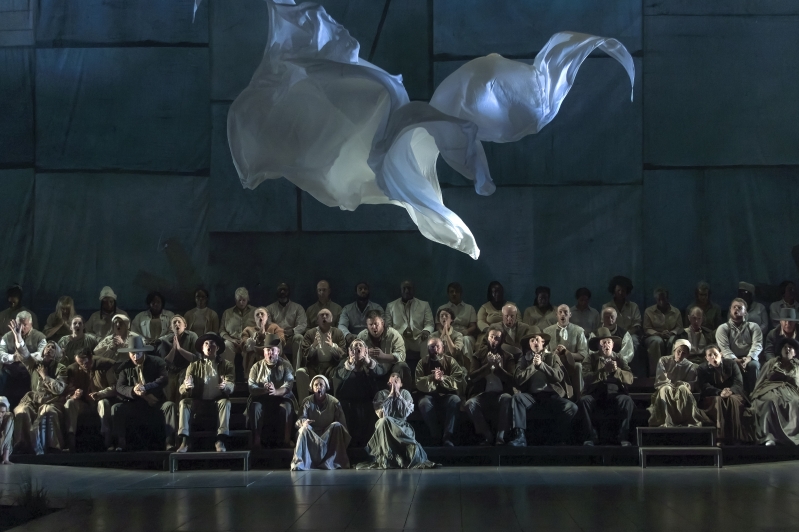 Did you know that more than 30 million people can trace their ancestry to the 102 passengers and approximately 30 crew aboard the Mayflower that sailed to America in 1620? Welsh National Opera's epic new opera, Migrations delves into the story of the Mayflower and the gruelling journey its passengers took in search for freedom from religious persecution. Let's take a deeper look at the story of the Mayflower and its portrayal in Migrations.
Setting sail from one of our touring cities, Plymouth, on 16 September 1620, the Mayflower and its passengers began their journey to America. The first performance of Migrations was originally set to mark 400 years since this date, and it is this striking scene, depicting the hope of new beginnings, that opens the opera. The curtain rises on a cast of over 100 incredible performers, cast in blue-toned lights, as they sing in unison, declaring their pursuit of freedom.
'Freedom to pray, freedom to think, to go, to stay. Free to believe...'
The Mayflower took 66 long days to cross the Atlantic. The difficult journey was afflicted by large storms, seasickness and even childbirth - all occurring within the cramped space below deck. As white lights flash across the stage, the cast violently rock back and forth, crashing together and falling apart, some praying for relief, some throwing their hands up to God. It is an intense and dramatic scene that instantly captivates the audience.
'Tossing and turning in a space twenty-seven feet long by twenty-five feet wide'
Disease was rife, nutrition was lacking, and living conditions were harsh. A child, aptly named Oceanus, was born aboard the ship, but unfortunately, over half the other passengers and crew did not survive the voyage. The names of those who lost their lives are read out on stage as their bodies crumple to the floor in a staggering visual representation of how many people died.
'God, God, God, tossed, cramped, pent up, walled in by wood and water'
Eventually, dry land became visible from the Mayflower and the ship anchored just north of Cape Cod on the 11 November 1620. The surviving settlers began building their new lives and were taught how to hunt and grow crops by the native people who already lived there. A couple of months later, the Plymouth settlers celebrated the first harvest in a festival of thanksgiving; a tradition that still exists to this day.
'Landfall! Landfall...New Plymouth we shall name it if we survive.'
Migrations interweaves the story of the Mayflower with five other stories of migration, blending the real-life stories of various individuals into one epic tale. Enjoy a performance this Autumn as we take this critically acclaimed new opera on tour to Cardiff, Bristol, Llandudno, Birmingham, Southampton and, of course, the home of the Mayflower, Plymouth between 2 October and 26 November.
---
---