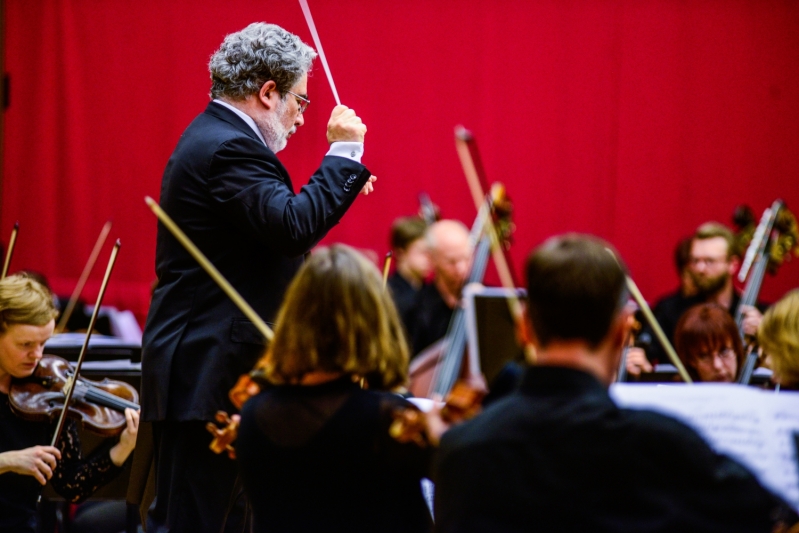 Welsh National Opera is delighted to celebrate the 60th birthday of Maestro Carlo Rizzi, WNO Conductor Laureate on 19 July 2020.
Born in Milan, Carlo trained at Conservatorio di Musica di Milano and after graduating became a répétiteur at Teatro allo Scala. His opera conducting debut was 1982 with Donizetti's L'ajo nell'imbarazzo. In 1985 Carlo won the first Toscanini Conductor Competition.
After an almost 40-year career, Carlo Rizzi is one of the world's leading opera conductors, having performed over 100 operas across a broad repertoire in the most famous opera houses and concert halls around the globe.

Carlo joined WNO as Music Director from 1992 -2001 and again in 2004 -2008, but his debut with WNO was conducting a performance of Rossini's The Barber of Seville on 6 March 1990. His tenure at WNO has had a profound effect on the Company and its artistic reputation, contributing much to establishing WNO as a world-class touring opera company. He continues to be a significant influence and supporter of WNO and because of these strong bonds with WNO, Carlo was appointed WNO Conductor Laureate in 2015. Carlo has fully embraced his time in Wales and learned Welsh.
Carlo continues to have links with opera houses across the world and regularly conducts at The Met in New York, La Scala Milan, the Royal Opera House as well as Berlin, Paris, Brussels, Chicago, Madrid and Tokyo. He also works with the world's leading orchestras. Carlo Rizzi was integral to WNO's recent critically acclaimed Verdi Trilogy:
Italian colour and dramatic gusto are vouchsafed by WNO's Conductor Laureate Carlo Rizzi, who inspires the Company's Orchestra and Chorus to thrilling heights

Sunday Times
Verdi is core to Welsh National Opera and they honour him nobly with this Trilogy. It is thanks to Rizzi in the pit that Verdi's combination of power and finesses impresses

The Guardian
In 2019 Carlo returned with WNO Orchestra to the International Concert Series at St David's Hall after an 11-year absence. He said of the occasion: 'It is always a great pleasure for me…after more than 25 years working together with WNO Orchestra we have come to know and understand each other at a deep level and the trust with which we rehearse and perform, whatever the repertoire, is something I really value.'
Carlo has become an established and much-loved fixture at WNO over the years for both members of the Company and our audience. He garners praise for his inspiring conducting and even when he halts a performance of the Spring Season 2020 WNO production of Verdi's Les vêpres siciliennes twice to chastise mobile phone interruptions, receives a warm round of applause from the audience.
We sincerely hope that WNO's relationship with Carlo Rizzi will continue for many years, and all at WNO would like to wish him many happy returns as we join in celebrating his 60th birthday.

Buon compleanno Carlo!
Penblwydd Hapus yn 60!
Happy 60th Birthday Maestro!

---