Meghan and Harry, the newlyweds who married in Windsor last May, are just days away from welcoming their first child. As we wait for the Queen and Duke of Edinburgh's eighth grandchild to arrive, we reflect on our fruitful relationship with royalty. Members of the royal family have links with hundreds of charities and Welsh National Opera have been very fortunate to receive support from several members of the royal family over the years.

WNO first attached itself to a royal title in 1946 when the Prince of Wales Theatre, Cardiff was secured as the venue for the company's first fully staged performance. On April 1946, WNO Music Director, Idloes Owen, conducted the opening night of Cavalleria Rusticana & Pagliacci. Fast forward 70 years and the man whose name was lent to our first venue, hosted a special gala performance, which saw performances by Sir Bryn Terfel and WNO favourite Rebecca Evans, at Buckingham Palace to celebrate our 70th anniversary.

The year 1969 marked our first royal visit. On 14 October Prince Charles visited the company for the very first time. Following the Gala Performance of Verdi's Falstaff at New Theatre Cardiff, he showed his great knowledge and enthusiasm for the art form.
We were given the royal seal of approval in 1982, when Diana, Princess of Wales became our first ever patron. During her time as patron she attended numerous Gala Concerts in New Theatre, Cardiff; Dominion Theatre, London; Royal Opera House, Covent Garden; Brooklyn Academy of Music, New York and in 1984, she opened the new purpose-built headquarters, Princess of Wales Building in John Street, Cardiff. We have been fortunate enough to welcome, not only the Prince and Princess of Wales over the years, but also the Duke of Kent and Princess Royal, Princess Anne.

In 1996, Princess Diana resigned as Patron, together with several other organisations, but this was not the end of our royal connection. In 1997, we welcomed a new Patron, HRH the Prince of Wales. Since becoming our Patron in 1997, Prince Charles has regularly visited the Company. His most notable visits include performances at Shaftesbury Theatre, London; Sadler's Wells Theatre, London; New Theatre, Cardiff and of course Wales Millennium Centre.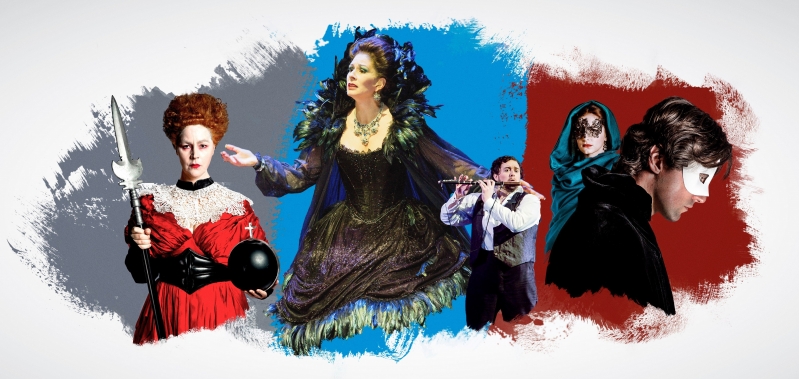 Royalty even filters down to our programme of operas. Our Spring 2019 Season focuses on the profound and mysterious issue of monarchy. Un ballo in maschera and Roberto Devereux are both dramatically re-work royal histories in which the abuse of power is portrayed as central to each monarchs' downfall. The imperious and, ultimately, terrifying Elizabeth I confronts the situation in Roberto Devereux with her obsessive mastery. In David Pountney's new production Un ballo in maschera, a King enthralled with theatre and disguise reveals a more feckless approach to his responsibilities, and is ultimately punished for it in a brutal murder. Last, but not least, in The Magic Flute, a man and a woman are tested and tried, literally in fire and water, to prove their mettle as future rulers.

Our Spring Season operas are on tour until 11 May.
---