Welsh National Opera have a history of performing in various venues and theatres in Wales and England. One of our regular touring venues is Theatre Royal Plymouth – one of the UK's largest regional producing theatres.

Built in 1758, Theatre Royal Plymouth has hosted performances from musicals to opera and ballets by companies such as Birmingham Royal Ballet, the Rambert Dance Company, Glyndebourne and of course, WNO.

Initially a result to changes in the way arts funding was allocated, WNO toured to the city for a week-long engagement which began a regular touring season in the South West.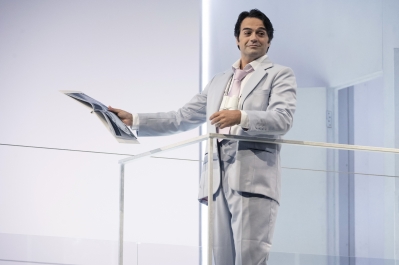 Our first visit to Plymouth was back in 1985, where Puccini's Madam Butterfly was performed – a title we are touring during our Autumn 2021 Season. The 1985 cast included Rosamund Illing (Madam Butterfly), Cynthia Buchan (Suzuki), John Harris (Goro), Arthur Davies and David Rendall shared the role of Pinkerton while Henry Newman and Williams Shimell shared the role of Sharpless.

Following on from this first successful Season, WNO toured once again in 1987, two years later. This Season included Mozart's The Marriage of Figaro (conducted by Sir Charles Mackerras/Anthony Negus),Die Fledermaus by Strauss II and Janáček's The Cunning Little Vixen. We returned again in 1990, following 1987's prosperous tour. In fact, up until Spring of 2020, WNO had performed in Plymouth 144 times, indicating WNO's significant growth of popularity in the South West.
In 2019, WNO began touring to Plymouth twice per year as part of a commitment with the venue to continue to bring large scale opera to the region. The venue welcomed us back for our first bi-annual visit with a window display that showed just how much TRP loves WNO (and we love TRP too!). Unfortunately, not long after that the pandemic struck the UK and live theatre grounded to a halt. Over a year and a half later and we're pleased to be back on the road with our Autumn 2021 tour making our first stop in the South West.
---