From the very beginning opera has been influenced by the great novels of the time. Opera is all about telling stories, so it's not surprising that some of the legendary literature has been adapted into incredible opera.

In light of our new production War and Peace that we are performing this autumn, we thought we'd put together a list of some of the greatest novel adaptations that have been brought to the opera stage and perhaps there'll be one that might come as a bit of a surprise to you.
Eugene Onegin
An example from our 2017 Russian Revolution Season, Eugene Onegin, is based upon the novel by Alexander Pushkin, considered a classic Russian novel. The tale is of a young innocent woman who falls in love with the arrogant and selfish Eugene Onegin. This moral story is set in the snowy backdrop of Russia in the 1820s and has influenced several adaptations, with an opera, ballet, play and a number of films – it is safe to say that Pushkin's Onegin lives on today
Carmen
Some of you may be surprised to know that the opera Carmen was based upon the novella by Prosper Mérimée of the same name. The story, for those of you not aware, is about the downfall of Don José, a young soldier who falls for the temptress Carmen. She leads him astray but falls for another man so in an act of jealous rage, he kills her.
La traviata
Another opera, from our upcoming Autumn Season, that is based upon a novel is, arguably, the most famous opera in the world, La traviata. The original story was written by Alexandre Dumas and its original title was La Dame aux camélias, but before it was made into the opera we know and love today, it was adapted for the stage by the author himself. After its stage premiere success in Paris in 1852 it wasn't long before Guiseppe Verdi set about creating La traviata in 1853. But the influence doesn't stop there, La traviata was also the basis for the 2001 film Moulin Rouge, as well as featuring heavily in the much loved film Pretty Woman starring Richard Gere and Julia Roberts.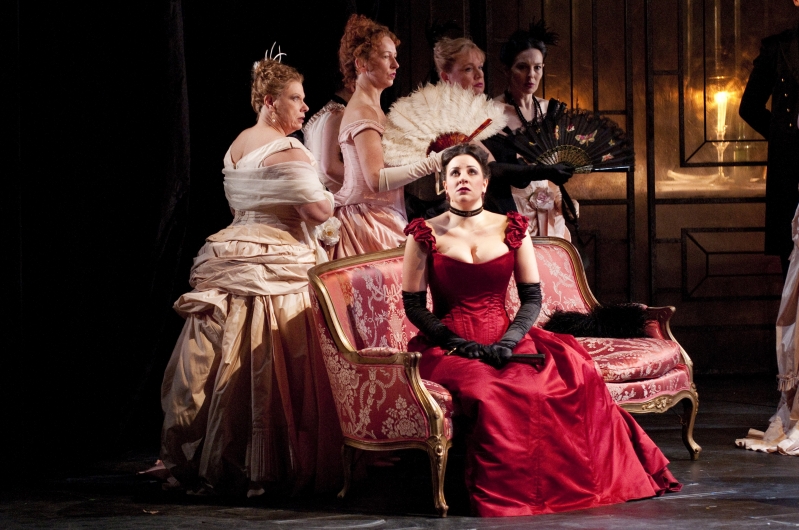 War and Peace
Well, we can't not mention War and Peace when discussing famous novels-turned-operas can we? War and Peace, written by Leo Tolstoy, is a classic novel that chronicles the history of the French invasion of Russia in 1812, and its standing in world literature is one of the author's finest achievements. Not only has this historical tale been made into an opera but several TV series, films and has influenced literature for all time. Prokofiev had already thought about writing an opera based on the epic novel when Germany invaded Russia in 1941. The real life conflict around him fuelled him to complete the opera, and within two years he had composed his original version.
---
We could go on and on but we have some operas to prepare for – so here are some more classic stories that you may or may not be aware have been turned into an opera…
Shakespeare's Othello, Macbeth, The Merchant of Venice, The Merry Wives of Windsor (Falstaff).
Jane Austen's Mansfield Park
Henry Murger's Scènes de la vie de bohème (La bohème)
John Steinbeck's Of Mice and Men
Dostoevsky's The House of the Dead (From the House of the Dead Janáček)
Antoine François Prévost's Manon Lescaut
---