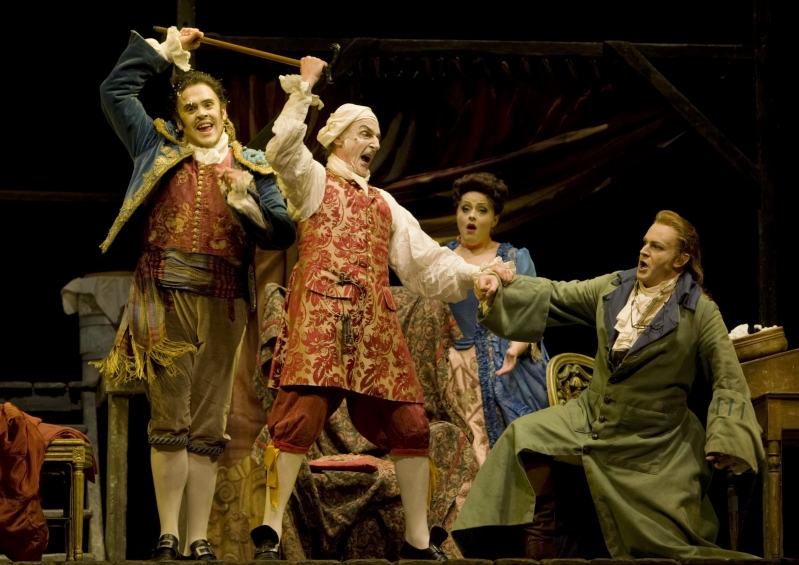 The most enigmatic character in the operatic world, and certainly the only one to have three operas written about him (including The Barber of Seville), is Figaro. His well-known Figaro, Figaro, Figaro aria is the famous 'Largo al factotum' which means 'make way for the factotum' i.e a general dogsbody. Apart from being one of the catchiest tunes around it is also one of the hardest to sing and over the years Welsh National Opera has staged many Barbers. It's in the top ten most performed operas in the world so it's no wonder WNO has produced almost 200 performances.

It's popularity is surprising given the chaotic opening performance in 1816; there were cats, broken bones and some very loud booing. The Barber of Seville is something of a Welsh National Opera favourite as we have had six new productions of the opera in all since 1957. It's not just in the full productions that we celebrate the Barber and his friends but in concert form too: in 1949 WNO gave a concert in a marquee that was attended by over 5,000 people with an overflow sitting on the grass. Proving that the audiences love him too.

WNO's first full production, in fact the first Rossini opera in the Company's repertoire, was in 1957, directed by Harry Powell Lloyd. This was revived in 1959 when Rita Hunter made her WNO debut, singing Marcellina. 1964 saw a new production by John Moody, which restored the original recitatives to replace spoken dialogue in the earlier production. Ryland Davies gave his WNO debut performance at the age of 21, singing the role of Almaviva While in 1970 a new production by Malcolm Fraser featured Terrence Sharp as 'Figaro' and James Levine conducting. In 1977 there was a new production directed by William Gaskill, making his operatic debut. The current version, Giles Havergal's much loved production, was first performed in 1986 and revived many times, had been planned for this year but has sadly been postponed.

There was another new production, directed by Sam Brown, as part of the Figaro trilogy in 2016 along with The Marriage of Figaro and Figaro gets a Divorce. The costumes for all three were designed by Sue Blane who is known for designing other greats such as The Rocky Horror Picture Show and The Draughtsman's Contract. With all these productions under our belt we can't wait to perform this much beloved classic again and create something spectacular - re-inventing the story in new ways in the future.
---