You may think pop songs and opera are the absolute antithesis of each other; arch enemies never to be reconciled. However, crossovers such as the ethereal recording of Jeff Buckley singing Dido's Lament or Beyoncé's song Ave Maria shows that sometimes mixing genres can result in the breathtakingly memorable. Welsh National Opera heartily agrees.

There is no denying that classical music and popular songs go beautifully together; you only have to look at the BBC Proms to see the incredible performance that is created when an orchestra plays. A prime example of this being Radio 1's Ibiza Classics, from the infectious smiles of the orchestra you can see how the classical twist adds power, gravitas to the pure joys pop gives. Or the absolute hair raising, goosebump making rendition of Sharon Van Etten's cover of LCD Soundsystem's New York, I Love You But You're Bringing Me Down. Here Welsh National Opera explores what other genre-bending gems are out there...
Queen (the band not HRH) and opera have a long history of romance; from Freddie Mercury singing Barcelona with the opera legend Montserrat Caballé to naming one of their albums A Night at the Opera with opera mash-ups like Bohemian Rhapsody. Also when Freddie belts out, 'I don't want my freedom' in It's a Hard Life he is borrowing the line 'Ridi, Pagliaccio, sul tuo amore infranto!' (Laugh, clown, at your broken love!) from the opera Pagliacci.

In fact others have taken it further creating a whole album influenced by opera such as Def Jam's album called The Rapsody Overture: Hip Hop Meets Classic. Many different rappers and artists contributed to the album but one in particular, LL Cool J's song Dear Mallika, perfectly encapsulates the drama of the sampled Flower Duet from Lakmé with the lyrics which not only reflect the opera itself but which still resonate greatly in today's climate.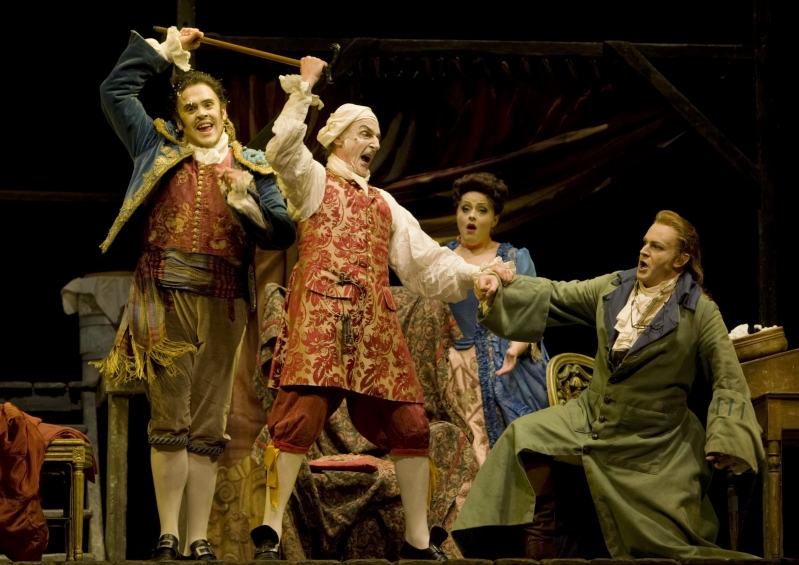 Then there is the singer Mika who is popular for hits such as Big Girls and Relax, Take it Easy. For his song Grace Kelly he borrows from Rossini's Largo Al Factotum - you'll be able to hear it in WNO's upcoming production of The Barber of Seville (Largo Al Factotum that is, not Mika.) It's not just through the voice or sampling that opera can be incorporated into song as Muse's Plug in Baby shows us with the opening guitar riff from Bach's Toccata and Fugue in D minor deftly turning classical into rock.

Lastly, who can forget the king and queen of jazz, Ella Fitzgerald and Louis Armstrong with their rendition of Summertime from the original 1935 opera Porgy and Bess. It has become a staple of popular music, going on to gather over 33,000 covers. So there you have it, whether it is pop, R&B, classical, rock, indie or jazz; opera can be transformed into anything and inspires other artists to go on and create new works. When you really think about it music knows no boundaries and shouldn't be restricted; so bring on the crossovers, the hybrids and the beautiful blends; the world needs it and we love them.
---