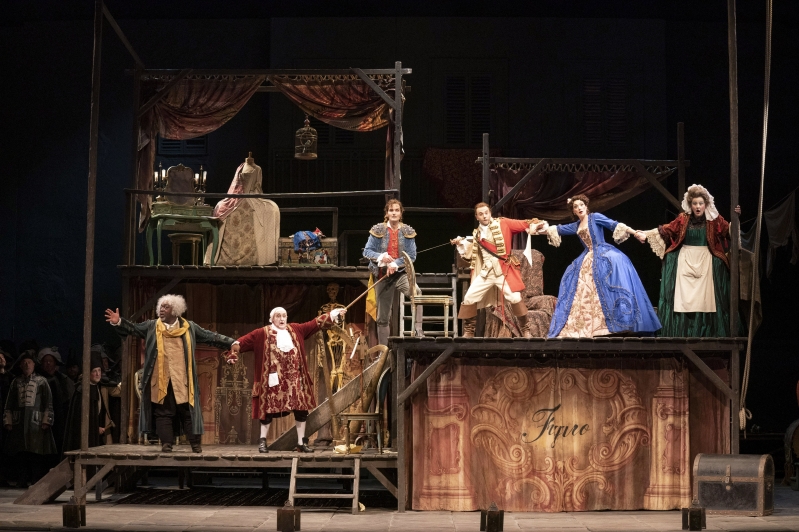 Autumn 2021 was certainly a Season we at Welsh National Opera can all be proud of – a full Season, the first since our Spring 2020 Season that was cut off by Covid-19. At times we were unsure as to whether it would happen, but happen it did, and now it is all over we are looking forward to 2022 and all that a brand new year brings. But first, let's look back:
We opened the Autumn Season at our home, Wales Millennium Centre on 9 September with our classic production of The Barber of Seville, a favourite that was appreciated by an audience so glad to be returning to live theatre:
'Congratulations on a splendid comical treat'
'Thank you so much for another fabulous production! Took mum (who's 87) to Barber of Seville … and it was a sheer delight! Once again, thank you for bringing such joy, especially in these trying times'
'A very much welcomed back WNO! The performances were superb!'
Our other Autumn opera was a brand-new production of Puccini's Madam Butterfly, brought into the 21st century by director Lindy Hume. With its white rotating set proving so much more than just a stark box, the simple setting allowed the glorious music to come to the fore, emphasising the emotional wrench endured by Butterfly. Receiving four and five-star reviews as well as countless positive responses from audiences throughout the tour:
'We absolutely loved this production...It was/is a triumph and having seen it I can't imagine any other production coming anywhere near the bar you have set.'
'I wish to congratulate you and all those responsible for the quite outstanding production of Madam Butterfly. My wife and I left on a cloud of enchantment and praise for the whole evening. The set is quite spectacular and intriguing.'
'I was so gripped, moved, entranced, uplifted and shattered, that I felt I had to write. What a fabulous Butterfly for our times.'
'Spell-binding, moving, beautifully, beautifully sung, staging superb. An incredibly refined performance. Just a magical, unforgettable evening.'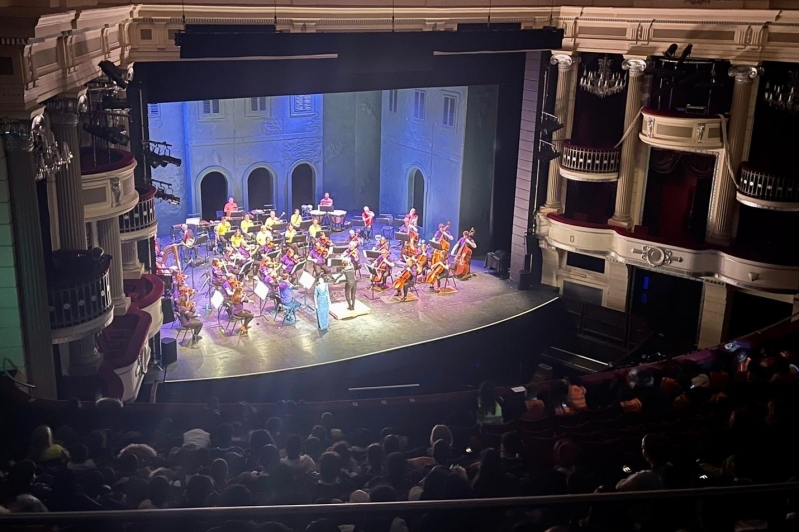 In Cardiff, Birmingham and Southampton we also put on WNO Schools Concerts that proved more popular than ever after the disruption to education (and lives); providing a welcome respite and chance for the students - and teachers - to enjoy the experience of a live orchestra performance.

Our return to the stage actually began with trial concerts at St David's Hall and at Wales Millennium Centre in early July to test how performances in front of an audience could work this year. WNO Orchestra also returned to St David's Hall in November as part of the newly renamed Cardiff Classical Concerts as well as appearing again at Royal Welsh College of Music & Drama's Opera Gala, marking the complete return to our supporting role to the students there.
Finally, the memorable appearance by WNO Youth Opera at the opening of the Sixth Senedd on 14 October, in front of Her Majesty The Queen, His Royal Highness The Prince of Wales and Her Royal Highness The Duchess of Cornwall. They performed a special arrangement of Ar Lan y Môr which, by being included in media coverage of the event, allowed their talent to be seen far and wide. Marking a highlight of the past 18 months for many of the young singers WNO encourages and supports.
This Season may well have been a long one, with the tour stretching over three months and our last performance at Venue Cymru on Thursday 2 December; but all dates were successfully reached and it felt so good to be back.
---