And just like that our perfectly cooked summer offering, Don Pasquale, has come to an end. Our contemporary and highly relevant new production, set in and around Pasquale's doner kebab van, bought the classic story of an old bachelor's romantic delusions and the young lovers who outwit him bang up to date for 2019.
The show received overwhelming responses from audiences and critics alike, with its fabulously funny new libretto, written by Daisy Evans, appealing to those new to opera and those familiar with Donizetti's opera buffa.
---
Don Pasquale has not just been re-imagined but entirely re-written, whilst still remaining true to the original's general storyline and, more importantly, the spirit of the original, which is considered by many to be one of the last 'opera buffas' (Italian comic operas). It's a great watch/listen for anyone new to opera as well as more familiar with the form. A real job well done, and a production which proves that Welsh National Opera really are world class.

Buzz Magazine
---
Loren Elstein's set design magically transported you to 21st century Cardiff, with on-stage discarded kebab packaging, bins and condiments and Donizetti's score was skilfully adapted by Stephen Higgins and saw the traditional orchestra being replaced by Malatesta's funky on stage band - who also took part in some of the zany action.

You were also taken by our re-invention of Donizetti's characters, now larger than life caricatures, performed by our sensational cast. Andrew Shore as our weight lifting kebab van owner, Don Pasquale, who's comic timing channelled the legendary Ronnie Barker; Nico Darmanin as Don Pasquale's popstar wannabe nephew Ernesto; WNO Associate Artist Harriet Eyley as the flirtatious and sassy Norina; and last, but not least Quirijn de Lang as the flamboyant dweller and snake hipped Malatesta. You even entertained us with a hilarious game of who's who.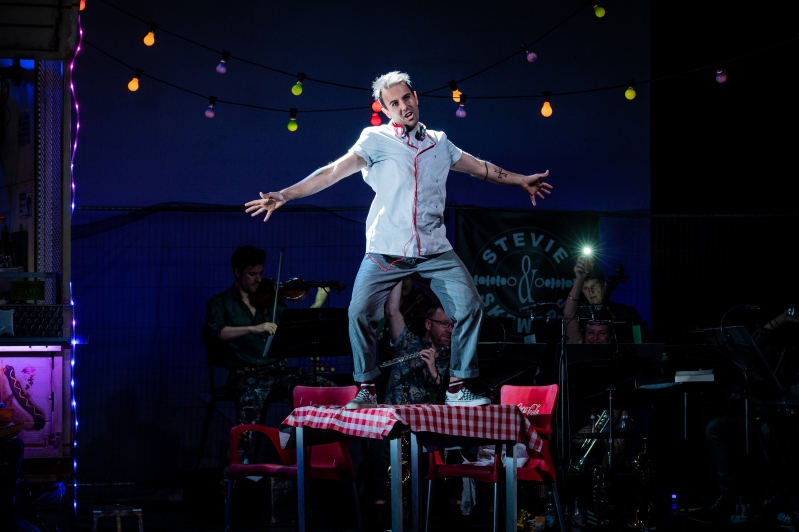 Ernesto is determined to become a pop star. Nico Darmanin could well become one. With his fine tenor, he delivers at least one of his 'arias' with all the grunt and grind of a part young Tom Jones.

Theatre in Wales
---
The story is how the wily Russell Brand-esque Malatesta, sung by the fine baritone Quirijin de Lang, tricks the Don into "marrying" his sister from Llandudno.

South Wales Argus
---
If you weren't able to join us for this new production, don't worry, we have another new production on the horizon. During our Autumn 2019 Season, we will be performing Jo Davies' new production of Bizet's Carmen. Set in 1970s Central America, it will bring all the passion and drama expected of this iconic opera while highlighting the economic situation to today's audiences. Our Opera Insight at Wales Millennium Centre on 8 September is the perfect introduction to the opera.

---