Wales; 'Gwlad beirdd a chantorion, enwogion o fri' - a Land of poets and singers, and people of stature. A nation that homes 3.1 million people and covers a region of 20,800-kilometres square within the United Kingdom. Formed of 170 towns and villages, Welsh National Opera has a connection to all six of the country's cities - Cardiff, Newport, Swansea, Bangor, St Davids and Saint Asaph.

To begin at home, you'll find WNO's headquarters within Wales Millennium Centre in Wales's Capital City, Cardiff. Our birthplace isn't too far from the Bay – the Company was formed in the home of our first General Manager, Idloes Owen, in Llandaff on a cold winter's evening. Keeping our Welsh identity at the heart of everything we do, we commit to strengthen our links with Welsh companies and institutes and communities through touring our main scale and mid-scale productions, orchestral concerts, community events and outreach projects.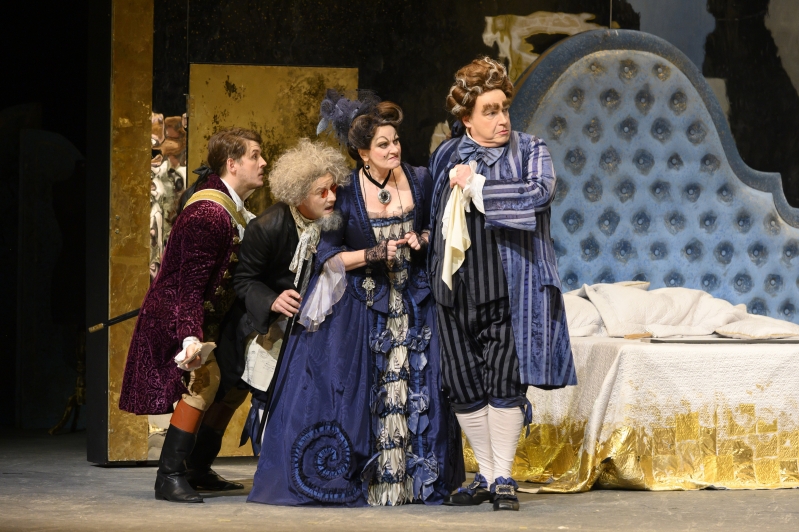 Renowned as the Land of Song, singing is an essential part of Welsh tradition. This Season alone, we have welcomed a whole host of Welsh artists such as Leah-Marian Jones, Elin Pritchard and Robyn Lyn Evans to name a few. We've also welcomed Welsh conductors and dancers. Our new production of Les vêpres siciliennes saw us collaborate with fellow Wales Millennium Centre residents, National Dance Company Wales.

Following an outstanding few weeks in Cardiff, our Spring 2020 Season is now out on tour and will this week be visiting our North Wales home, Llandudno. In addition to hosting our main scale production, Venue Cymru is base to one of our Youth Opera groups and our North Wales Community Chorus – who perform at the North Wales International Music Festival in Saint Asaph annually.

Our latest mid-scale production, Cosi fan tutte, will tour the length and breadth of Wales this summer, taking opera to the smaller communities in the country. Kicking off in Swansea's Taliesin Arts Centre on 23 May, our brand new, 1970s inspired production will be visiting Newport, Mold, Brecon, Milford Haven and Bangor and will see Welsh tenor Rhodri Prys Jones make his role debut as Ferrando.

One of the numerous highlights of the year will be our Summer 2020 Season which sees the return of Welsh giant, Sir Bryn Terfel, who began his career with us back in 1990. This time he will be making his role debut as Duke Bluebeard's in Bartok's Bluebeard's Castle.
In addition to their substantial operatic remit, WNO Orchestra are frequent visitors in Cardiff's St David's Hall – home of the International Concert Series, Welsh Proms and BBC Cardiff Singer of the World. They also have a well-established touring programme to regional venues throughout Wales. Their latest summer touring offering, Bach, Barber and Beethoven, visits Cardiff on 20 June, and in July they head West to the Fishguard International Music Festival for two special concerts, one in St Davids and the other down the road in Haverfordwest.

The Orchestra also plays a central role within our Youth and Community department and will this year help us celebrate the fifth anniversary of our Schools Programme. Together with the children from the 10 regular primary schools we work with; we collaborate with Welsh composer Gareth Glyn and children's writer Anni Llŷn to learn more about Welsh myths and legends through a newly commissioned collection of songs.
We may have an international status, but we are proud to sit at the heart of music-making in Wales. Why not explore your Welsh Connections this St David's Day.
---