Candide
Bernstein
Archived: 2022/2023
Overview
The Best of all Possible Worlds
---
Leonard Bernstein's Candide is a supercharged wild ride in which 18th-century France crashes into 20th-century post-war America. Take a seat and strap in tight for a mind-boggling journey as we hurtle through a fantastical world of chaos – from castles in the Alps to skyscrapers in Montevideo, from earthquakes in Lisbon to the Amazonian jungles beyond the Andes. With societies riven by inequality and families displaced by war today, the story remains as relevant now as when it was first written in 1759.
From Bernstein's compositional brilliance to the razor wit of Dorothy Parker, Candide is an ebullient romp that pulls together the best of Broadway, the champagne froth of operetta and the timeless satire of Voltaire's original novella. WNO's new production welcomes an award-winning team, who won the National French Critics' award in 2022 for their production of The Snow Queen, and brings this zany, imaginative world to life and up to date with music, animation, dance and political bite.
---
An ingeniously witty, all-out absurdist Candide from WNO

The Stage
---
---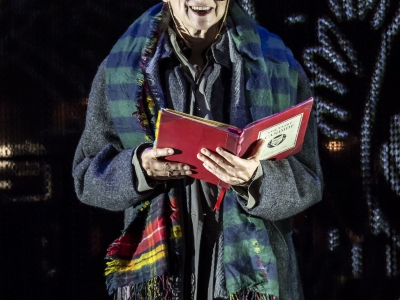 ---
Explore behind the scenes
---
WNO's new productions and new commissions are supported by the John Ellerman Foundation
---
Venues & Tickets
Good to know
Sung in English
Contains themes and language that some people may find upsetting. More info (link contains spoilers).
Joining us in Cardiff?
Take advantage of 20% off accommodation and pre-theatre dining offers from our preferred hotel partner, Future Inns
Synopsis
In an uncertain time, deep within a fictional European country, inside a magnificent castle lives a family of aristocrats with an unpronounceable name. The Baron and Baroness have two children, Maximillian and Cunégonde - both beautiful, vain and impossibly happy. Alongside them live the Baron's illegitimate son Candide and the maid Paquette. All the youngsters are taught by the wise Dr Pangloss who holds a particular philosophy: that this is the best of all possible worlds in which each element has a precise and particular role. So just as blossoming flowers or flaming sunsets are part of a grand design, so the suffering of children or the outbreak of a pandemic may be seen as essential to the overall global good. The young people and Dr Pangloss revel in the peace and harmony that their philosophy brings and, whilst the Baron finds time to demand regular favours from Paquette, who herself is being manhandled by Pangloss, Cunégonde and Candide have decided to fall in love. When the two conduct a science experiment of their own into what happens when certain body parts are put into close contact with one another they are discovered. The Baron, outraged, that his daughter should be intertwined with a bastard - never mind that they are half-siblings - banishes Candide. Their tidy world of wealth, aspiration and abuse has been shattered.
From there a picaresque tale of monstrous complexity ensues and, at every stage, the young people are brutally challenged in their belief that everything is truly for the best: War breaks out in Europe and the castle is destroyed: the Baron and Baroness murdered: the family is torn apart and Candide is led to understand that Cunégonde is dead. In the wreckage of their world he find Pangloss, wracked with disease, and together they set off to Lisbon. A sunken ship, an earthquake and a volcano later, they find themselves caught up in an Auto Da Fe overseen by the Inquisition - Candide is whipped and Pangloss is hanged. Oh, what a day!
Meanwhile, Cunégonde is not in fact dead but is instead in Paris. There, under the guidance of a one buttocked Old Lady she is forced to work as a high-class prostitute in return for a life of glittering jewels. Candide, by chance, finds himself in Paris and liberates his love from her wretched existence by killing both of her keepers. Along with the chaperone they flee on horseback, making for Cadiz and a route out of Europe. Adventures follow them along the way and the end of Act One sees them boarding a ship for Montevideo, capital of Uruguay, with a commission for Candide to join a group of militant Jesuits in the jungle. A promising future awaits across the Atlantic in the New, and surely best of all possible, World.
INTERVAL
Part two sees a rapid slide downhill. The Governor of Montevideo is a sexual predator who he has set his sights upon a new arrival. To his surprise, and ours, the woman he has led to his penthouse suite is actually Maximilian, Cunégonde's brother. In dismay at his discovery, the Governor casts Maximilian aside and over to a Friar who is, at that moment, looking for new recruits to his Jesuit order. Meanwhile, the ship has arrived with the Old Lady chaperone, Cunégonde and Candide. The Governor, smelling new opportunities, dispatches Candide to the jungle as fast as possible and shifts his attentions to Cunegonde. The two women are trapped.
In the jungle, Candide arrives at the Jesuit army camp where is he greeted with delight by Paquette (who happy circumstance has also brought to this particular group of monks in this particular jungle) and also Maximilian. An unfortunate turn of events, however, sees Candide kill Maximilian and he and Paquette are forced, once again, to flee - this time into an inhospitable rainforest.
More impossible events ensue as they discover the kingdom of Eldorado, pick up some precious sheep, make their way to Surinam and then get ripped off by a Dutchman and finally arrive in Constantinople. In parallel, Cunégonde and the Old Woman are themselves in Constantinople surviving as sex workers in the pleasure palace of the corrupt Prince Ragostki. The various lovers, siblings and friends are reunited and even Dr Pangloss is rediscovered moonlighting at the club. In a final philosophical leap, they are invited to disabuse themselves of hoping for an optimised outcome and instead to value the simple life working the land and to realise that the best of all things is actually within and around us. We just have to stay still long enough to listen.
Venues & Tickets
Behind the scenes
---
---
---
Venues & Tickets