Youth Opera Young Company
WNO Youth Opera offers training and performance opportunities to exceptional young singers, allowing you to develop your performance skills in a professional opera company. Over the last decade WNO Youth Opera has developed a reputation as an exceptional theatre ensemble earning 5* reviews from the national press, nomination for a South Bank Sky Arts Award and winner of a prestigious RPS and Wales Theatre Award.

Previous members currently working in Opera and Music Theatre include Natalya Romaniw, Samantha Price and David Thaxton. Conservatoire training is not essential, places will be offered based on audition and interview. This group will allow you to develop your skills in a professional company, working with leading international performance artists, WNO Orchestra, directors, designers, stage managers and technician
---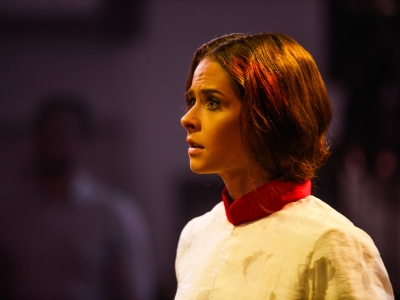 ---
WNO Youth Opera bring the heat of protest to every inch of the hall in a vivid, stirring tribute to the late composer. The legacy of the late Peter Maxwell Davies, who died four months ago, could not have been better honoured in this brilliant production of his penultimate opera, Kommilitonen! by WNO Youth Opera. At once inspiring and appalling, and with an immediacy that was sometimes as brutal as the tyranny being portrayed, here was documentary opera at its most compelling

The Guardian
---
Auditions
This is your chance to join WNO's award-winning Youth Opera and perform in a main scale production on the world famous Donald Gordon stage, Wales Millennium Centre.
This modern production of Shostakovich's Cheryomushki will take place as part of WNO's Autumn 2021 Season and will be led by top industry professionals Director Daisy Evans (Don Pasquale), Conductor Alice Farnham and Vocal Specialist Mary King.
---
I want to create a new production of Cheryomushki to allow the drama and themes within the opera to be closer to our time and contemporary socio-economic issues. I want the youth opera company to connect with that they're performing in a real and visceral way that they feel is relevant to them.

Daisy Evans
---
Auditions are via video submission (one opera aria and one unaccompanied folk song). Recall/final auditions will take place 5 - 7 February 2021.

Rehearsals will take place at Wales Millennium Centre, Cardiff on the following dates and you must be available for all:

Company music rehearsals; 29 March – 1 April; 6 – 11 April (10am – 5pm)

Weekend Company production rehearsals; 7 – 9 May; 28 – 30 May; 18 – 20 June; 2 – 4 July; 23 – 25 July (Fri eve 6 – 9pm, Sat 10am – 5pm, Sun 10am – 3pm)

Final production rehearsals: 1 August – 16 September (Mon-Sat 10am – 5pm)

Performances(x2), in the Donald Gordon Theatre, Wales Millennium Centre: 17 & 18 September 2021.

Fees £250pp. Bursary support is available to assist with travel and accommodation

Apply here
---
---
All rehearsal/performance dates could be subject to change in the event of updated Welsh Government laws and restrictions including local lockdowns. WNO will adhere to strict social distancing and safety guidelines at all times.
---
Supported by

WNO Partners
Gibbs Charitable Trust
Hodge Foundation
Paul & Marie Carson
The Seligman Gift

---